Written by Rushton Paul for Positive Feedback.
Original source
There are some artists whose music I find so compelling they force me, compel me, to stop and listen and absorb. Such is the impact of Maya Fridman—cellist, composer, singer. Born in Russia, making her home in the Netherlands, fierce advocate of support for Ukraine in this current war of Russian aggression, Maya is a unique voice in whatever artistic venture she undertakes. Her new album The Power of Indifference is a darkly powerful, compelling, challenging presentation of music, poetry, ideas, and sounds.
Maya Fridman (1989) is best known for her genius as a cellist, winner of multiple awards. But she has not been willing to pursue the typical artistic avenue of performing the standard repertoire in concert or recital. Instead, she has regularly searched to express her own voice as an artist championing contemporary music (works by De Graff, Schnittke, Vasks, Andreissen, Cassado, Tanaka, Sollima, Shalygin…) and her own musical expressions (such as her transcription for cello and piano of Prokofiev's The Fiery Angel (2015) HERE and her many improvisations on cello).
In The Power of Indifference, Maya has created an album that his purely her own, exploring the depths of emotions dealing with anger, loss, regret, fate and indifference. This is a dark album. There is no sunshine and light. But instead there is intensity and power and utter commitment. It is an album that many will not like (Ann is unsure of her reactions to it). But it is an album that I find utterly compelling and engaging.
I am now on my fifth listen—and I find more and more within it upon each listen. I encourage you: give this music your full attention when you listen to it. And come back to listen to it a second time. Don't do a "one and done" and think you've heard enough to make up your mind about it—you will only have skimmed the surface of what are very deep waters.
The production of this album is a very different venture for Brendon Heinst and TRPTK. All of my experience with TRPTK over the years has been with purely acoustic instrument recordings in natural acoustic venues, all superbly captured and produced. This album is far more produced. Using electronic sounds and effects, multiple overlapping tracks, combining acoustic instruments and electronic effects. Maya has integrated her cello and voice, multiple additional cellists, chorus, percussion, ambient sounds and manipulation of acoustic sounds (including voices) to create a unique listening experience that is both strange and strangely compelling—beguiling, if you will. If I recall correctly, Maya and Brendon said they spent over 60-days in the studio mixing this album. I can believe it.
Kudos to Maya for her bravery and vision in creating this album. Congratulations to all involved for this excellent result. I recommend the album to all who are willing to undertake some challenging musical exploration.
If you are unsure and wish to explore before making the investment in the album, full track previews are available to stream on NativeDSD in 48kHz resolution at the link above.
Just keep in mind that the power of the album is in the whole—the tracks build and build over the course of the album for a very immersive experience.
Or, you might try one of the DXD or DSD256 resolution singles of three different tracks from the album, available directly from TRPTK.
The making of the album, a behind the scenes look by Brendon Heinst
For additional background about the making of this album, in all it's multi-layered complexity, I recommend Brendon Heinst's blog post at the TRPTK website, HERE. Brendon goes into delicious depth about the 20 days of recording sessions with all kinds of instruments, both real and electronic/virtual as well as vocals, and almost 40 days of editing, mixing, and mastering sessions.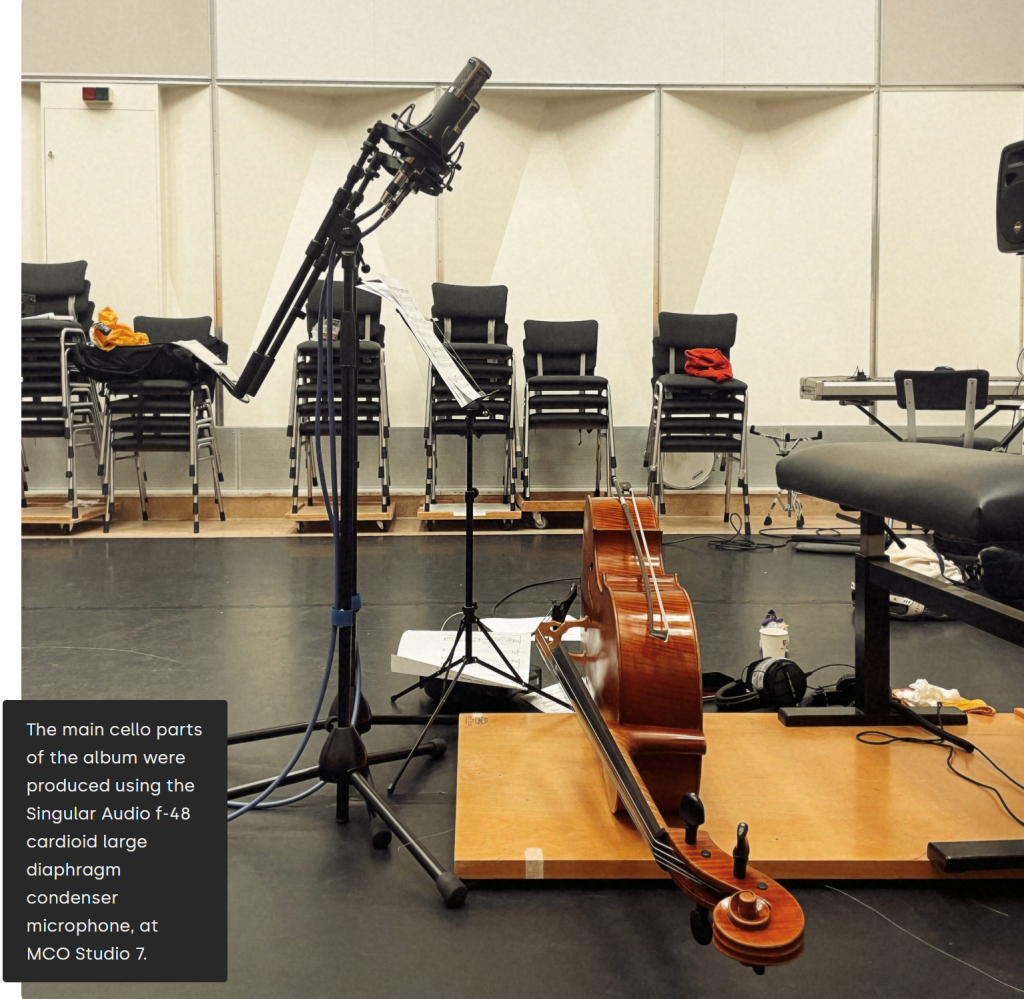 Brendon says, "She began writing line after line, layer after layer, of music based on her own poetry, in a genre that can't really be described other than to just point at Maya's catalogue of previous recordings and the fact she's been listening to rock and metal music her entire life, and just say, "just figure it out from there". There are hints of contemporary classical music, but also post-rock as well as metal even. But overall, it's just an extremely Maya album." He then continues with a track by track description of the process behind each of them. Very interesting behind the scenes discussion!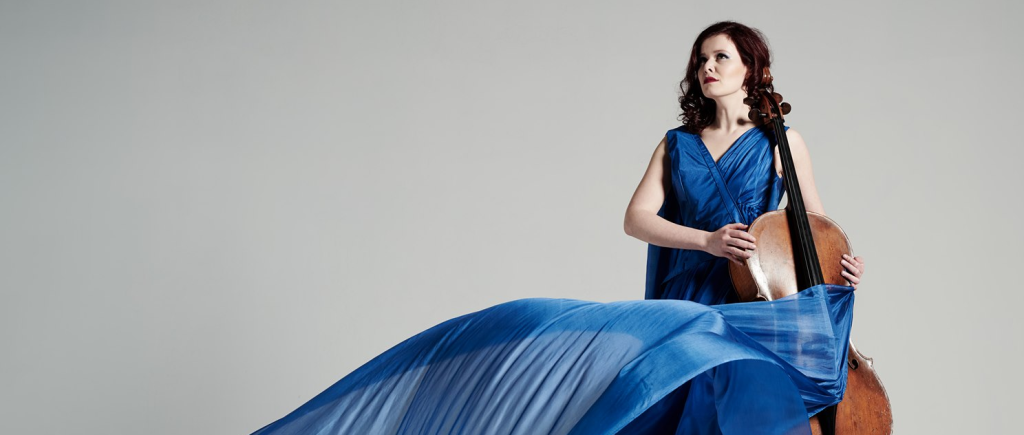 Other acoustic albums from Maya Fridman you should explore
Other albums from Maya Fridman that are all acoustic and more traditionally recorded with minimal post-processing include works by Sergei Prokofiev, Jan-Peter De Graaff, Giovanni Sollima, John Tavener, Lou Reed, Peteris Vasks, and herself (click on snippets to open full review).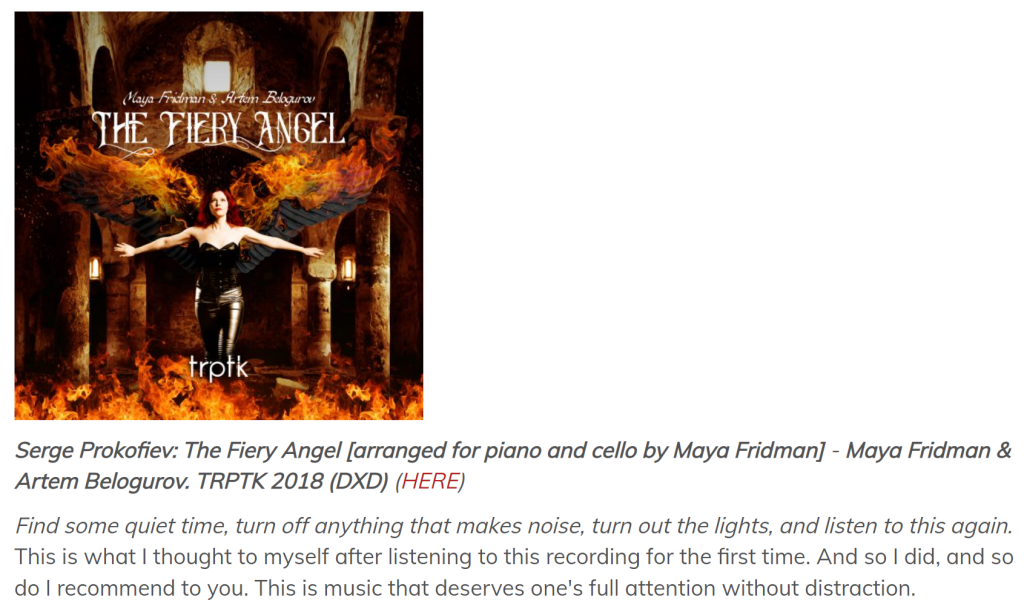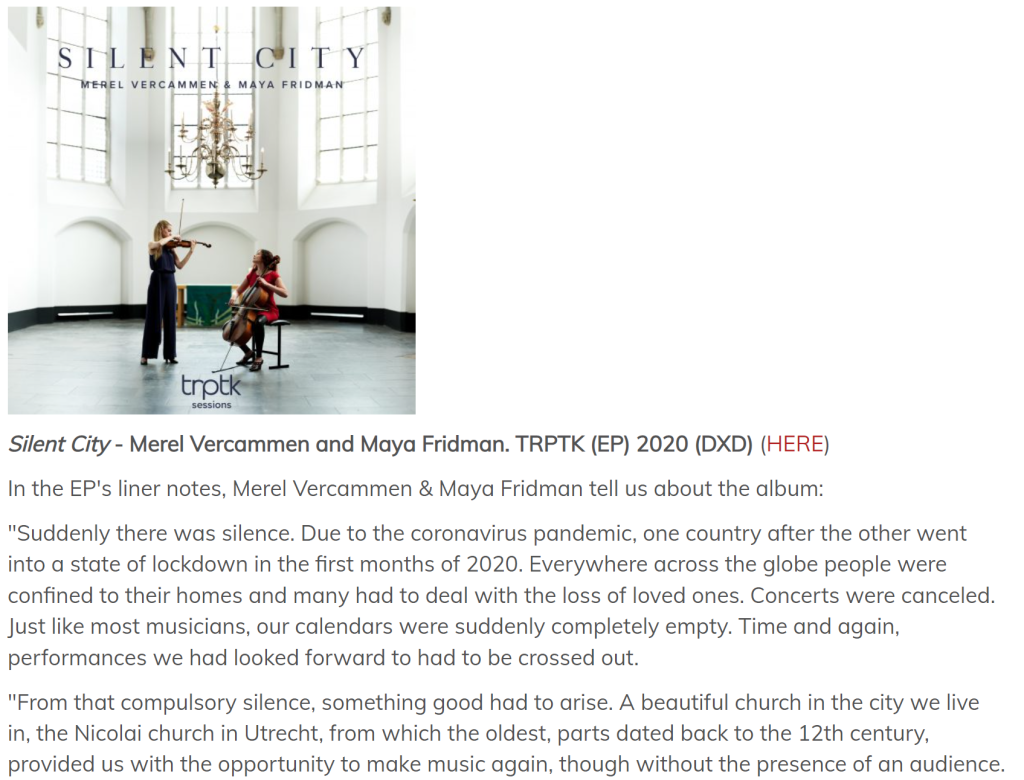 If you haven't yet figured out this point, let me be explicit: You need to get to know this wonderful innovative cellist, singer and composer. Maya Fridman's musicianship will reward your efforts.
Written by Rushton Paul for Positive Feedback.
Original source
---