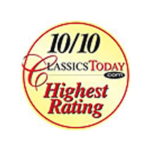 The life of John Jenkins was a long one. Born in 1592, the son of a Maidstone carpenter, he seems to have spent most of his life as a musician in houses of the nobility, mainly in East Anglia. Here he would teach, perform and compose, no doubt suiting his compositions to the available resources and players.
Tracklist
Please note that the below previews are loaded as 44.1 kHz / 16 bit.

10.

No. 12 in C minor

05:00

11.

No. 15 in A major

06:24

12.

No. 13 in A major

04:32
Total time: 01:13:22
Additional information
| | |
| --- | --- |
| Label | |
| SKU | 17602 |
| Qualities | |
| Channels | |
| Artists | |
| Composers | |
| Genres | |
| Cables | van den Hul T3 series |
| Digital Converters | DCS A/D DSD / DCS DA |
| Mastering Engineer | Jared Sacks |
| Mastering Equipment | B&W 803 diamond series |
| Microphones | Bruel & Kjaer, Schoeps |
| Mixing Board | Rens Heijnis custom design |
| Awards | |
| Instruments | |
| Original Recording Format | |
| Producer | Jared Sacks |
| Recording Engineer | Jared Sacks |
| Recording location | doopsgezinde Kerk, Deventer, The Netherlands October 2001 |
| Recording Software | Pyramix bij Merging |
| Recording Type & Bit Rate | DSD64 |
| Speakers | Audiolab, Holland |
| Release Date | January 15, 2014 |
Press reviews
Tijdschrift voor Oude Muziek
De musici zijn hoorbaar verheugd over hun muzikale ontdekking en de muziek geeft daar ook alle aanleiding toe. (…)
Volkskrant
voorbeeldige uitvoering, voortreffelijke opname, vooral ook door de positionering van de instrumenten in het stereobeeld, die het heen en weer kaatsen en doorgeven van de motieven en melodieën nog verheldert.
Klassieke Zaken
De combinatie van twee huppelende en speelse barokviolen met de ernstige, strakke streken van de gefrette gamba en het ondersteunende getokkel vn de theorbe klinkt fantastisch. Een schitterend huwelijk tussen frivoliteit en sonoriteit
Luister
De muziek is afwisselend levendig en gedragen, waarbij de instrumenten op steeds verschillende manieren met elkaar communiceren. De musici brengen deze gevarieerde interactie met een natuurlijke soepelheid en een groot gevoel voor subtiele nuances. Doordat ze perfect naar elkaar luisteren, zijn ensemblegesprekken ook werkelijk ensemblegesprekken, dialogen ook echt dialogen en komen imitiatieve passages zeer overtuigend over. (…)
American Record Guide
The Locke Consort does a beautiful job with these; each fantasia-suite is rendered with the elegance and precision it deserves (…) (…) The souns is excellent. (…)
Fanfare
the performances couldn't be better-they are obviously historical informed, but are vribant and rhythmically alert. Intonation is flawless and technique unfailingly clean. (…) (…) excellent recital (…)
Classics Today.com
This is music with generous amounts of color created by duet passages from the violins, a wide variety of voicings, and imaginative use of the plucked strings of the theorbo. (…) (…) the musicians are virtuoso soloists and first-rate ensemble players, and all of their skills are challenged in these highly developed, often florid works (…)
Gramophone
the balanced tonal landscape, and gentle undemanding melodie phrases are exploited sensitively by the experienced Loche Consort and underpinned with an unfussy authority by theorbo player Fred Jacobs, who honours Jenkins' own instrument by keeping the organ out of the frame (…)
Goldberg
The Locke consort plays beautifully (…) (…) This lovely release is one of the most enjoyable SACD's I have heard to date and enhances our knowledge of an already appealing composer. Hifi+ (…) the music is beautifully crafted and not infrequently eloquent, particularly in the slow sections that conclude each fantasia. (…)
Only logged in customers who have purchased this product may leave a review.