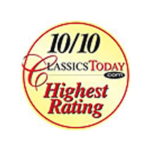 Astor Piazzolla was born in 1921 in Mar del Plata, Argentina, the only child of Italian emigrants. He moved to New York as a child, where his father bought his first bandoneón at the age of 8. He studied with the Hungarian pianist Bela Wilda (disciple of Rachmaninov) and met Carlos Gardel, the king of classical tango, who became a good friend of the family. In 1936, he returned to Argentina and began playing in a number of tango orchestras.
Soon he became a member and arranger of the Anibal Troilo orchestra, one of the best tango orchestras of that time. To develop his skills he decided to study with Alberto Ginastera. He was listening to lots of jazz and in 1946 he formed his first orchestra. His search for his own style, became obsessive and decided to abandon tango and the bandoneón to dedicate himself to his musical studies. At a composition contest he won a scholarship to study in Paris with Nadia Boulanger, who encouraged him to return to tango.
In 1955 Piazzolla returned to Argentina and formed a group, the Octeto Buenos Aires. His new works broke away from classical tango and he created chamber music without singer or any dancers. These new works generated hatred among the followers of orthodox tango. In 1978, Piazzolla formed his second quintet (bandoneón, violin, bass, piano, and electric guitar), which would make him world famous. His popularity continued to grow and with his quintet he toured all over the world. He suffered a stroke and died two years later in Buenos Aires on July 4, 1992. His works continue to influence the best musicians in the world even after his death.
Read more
Tracklist
Please note that the below previews are loaded as 44.1 kHz / 16 bit.

4.

Tango Suite - Tango nr. 1_ Allegro

04:24

5.

Tango Suite - Tango nr. 2_ Andante

03:36

6.

Tango Suite - Tango nr. 3_ Allegro

05:57

7.

Tres Minutos con la Realidad

03:12

8.

Homenaje a Lieja - Introducción

03:25

9.

Homenaje a Lieja - Milonga

05:48

10.

Homenaje a Lieja - Tango

06:03
Total time: 00:54:51
Additional information
| | |
| --- | --- |
| Label | |
| SKU | 19804 |
| Qualities | |
| Channels | 2ch Stereo, 5 Channel Surround Sound, 2ch Stereo & 5ch Surround |
| Artists | |
| Composers | |
| Genres | |
| Cables | van den Hul |
| Digita Converters | Meitner DSD AD/DA |
| Mastering Engineer | Jared Sacks |
| Mastering Equipment | B+W 803 diamond series |
| Microphones | Bruel & Kjaer, Schoeps |
| Mixing Board | Rens Heijnis custom made |
| Awards | |
| Instruments | |
| Original Recording Format | |
| Producer | Jared Sacks |
| Recording Engineer | Jared Sacks |
| Recording Location | Deventer Holland |
| Recording Software | Pyramix |
| Recording Type & Bit Rate | DSD64 |
| Speakers | Audio Lab Holland |
| Release Date | January 6, 2014 |
Press reviews
Haarlems Dagblad
De uitzonderlijke technische beheersing van de Katona's bereikt samen met de fameuze bandoneón speler Alfredo Marcucci grote hoogte in het gracieus en intiem gespeelde Milona op deze integere cd.
BBC Radio 3
full of flair, drama and passion …. Credit must go to the recording engineer of Channel Classics for achieving a really warm, vibrant but clear sound as well as to the performers. (…)
International Record Review
This latest album from the Katona Twins fully sustains the fully standards set by their previous three releases for Channel Classics. (…) the seductively spacious and forceful recording assumes even more authority and believable when the Sacd track is activated. Highly recommended
Classics Today.com
The Katona's constantly shape their effortless virtuosity so that the phrases and accents fall in the right places, conjuring up the smoke between the notes. (…) (…) The Carducci Quartet and bassist Daniel Storer embrace the guitarists with their beefy and slithery decorative gestures in Hommage à Liege and the nifty little Fugata that opens the disc. You'll swear that a string orchestra's in the room. This cd is a must, if you're a Piazzolla fan interested in 54 minutes of sonic and musical exhilaration!!
Gramophone
Original combination of elegance and earthiness. A rare achievement.
The Absolute Sound
Golden Ear Award: The Absolute SoundA beautifully played disc of very different arrangements of Piazzolla's music. "C. Jared Sacks' DSD recordings – vocal, choral, piano, orchestral – are consistently wonderful and this one's another gem"…. a fabulous guitar technique and highly refined musical instincts…. This is a beautifully made guitar recording, with loads of detail and startling dynamics, close-up but without much sound of fingers sliding on strings (the twins get some credit for that, of course) (…) Every aspect of the Katona's astounding virtuosity is here to savor.
Only logged in customers who have purchased this product may leave a review.