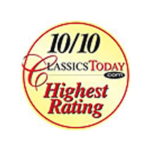 On this disc, we present three commissioned pieces, each of which we hope will become a major contribution to the literature. For a long time, we have wanted to design concert programs with just a few large scale works, each of which developed its ideas fully. Now the repertoire is growing, and we are on the brink of something new. All three of these pieces draw on various styles of music available to today's listener, from free improvisation in a densely notated art-rock setting to evocations of African vocal polyphony, from oblique references to 1970's television themes to the rhythms and intonations of a sermonizing preacher. Yet each piece creates its own unique style and language. We recorded this CD in the Doopsgezinde Kerk in the town square of Deventer, Holland, in a large pedestrian plaza referred to locally as Brink.
Tracklist
Please note that the below previews are loaded as 44.1 kHz / 16 bit.

4.

Corpus - Kreuz_Manner

06:35

5.

Corpus - De Profundis

03:50

8.

Andante & Allegretto In C, Kv 402 (385E) - Allegro Moderato

03:51

9.

Andante & Allegretto In C, KV 404 (385D) - Andante

02:22

10.

Andante & Allegretto In C, KV 404 (385D) - Allegretto

01:24

11.

Sonata In Bb, KV8 - Allegro

04:49

12.

Sonata In Bb, KV8 - Andante Grazioso

04:14

13.

Sonata In Bb, KV8 - Menuet I & II

03:16

14.

Sonata In Eb, KV 380 - Allegro

06:35

15.

Sonata In Eb, KV 380 - Andante Con Moto

11:23

16.

Sonata In Eb, KV 380 - Rondeau_ Allegro

04:24

17.

Slim In Beaten Dreamers - Rmedial, Eminent Brass

00:26

18.

Slim In Beaten Dreamers - Manliest Base Reminder

00:23

19.

Slim In Beaten Dreamers - Able, Saner Determinism

03:49

20.

Slim In Beaten Dreamers - A Mean, Dim Terribleness

01:08

21.

Slim In Beaten Dreamers - Steamier Limb Ensnared

02:49

22.

Slim In Beaten Dreamers - Merriest, Blamed, Insane

00:58
Total time: 01:27:35
Additional information
| | |
| --- | --- |
| Label | |
| SKU | 23206 |
| Qualities | |
| Channels | |
| Artists | |
| Composers | |
| Genres | |
| Cables | van den Hul T3 series |
| Digital Converters | Meitner A/D DSD / Meitner DA |
| Mastering Engineer | Jared Sacks |
| Mastering Equipment | B&W 803 diamond series |
| Microphones | Bruel & Kjaer, Schoeps |
| Mixing Board | Rens Heijnis custom design |
| Awards | |
| Instruments | |
| Original Recording Format | |
| Producer | Jared Sacks |
| Recording Engineer | Jared Sacks |
| Recording location | Doopgezinde Kerk Deventer, The Netherlands 2006 |
| Recording Software | Pyramix bij Merging |
| Recording Type & Bit Rate | DSD64 |
| Speakers | Audiolab, Holland |
| Release Date | March 9, 2015 |
Press reviews
Klassieke Zaken
Swingende muziek van jonge Amerikaanse componisten. Pakkende titels voor de vele muzikale haarspeldbochten die the Meridians eerder op- dan terugschakelend nemen (…) (…) Een onvergetelijke ervaring!!
Luister
Na 8 jaar radiostilte, veroorzaakt door het vertrek van de trompettist en een lange zoektocht plus inspeeltijd voor vervanger, is er dan eindelijk cd (een super audio) nummer acht!! De muziek op deze cd is moeilijk te classificeren, ze hoort eigenlijk thuis in de rubriek Niemandsland, met invloeden van jazz- ,world-, rock- en computermuziek. Piepknars is het zeker niet, interessant altijd en gemakzuchtig nooit. Dit laatste geldt ook voor de supervirtuozen die dit ensemble vormen, en al evenzeer voor opnameleider en technicus Jared Sacks.
American Record Guide
Meridian plays well and enthusiastic
Classics Today
Meridian has made eight recordings on Channel Classics. All those I've heard are well worth owningOn all of its discs Meridian has displayed a talent for discovering nuggets of good music amid much modernist dross. Happily, this trend continues here: all three works, while modern and dissonant, are well-made and excitingexhilarating energyChannel Classics is one of the best of several small labels that continue to trump the so-called "major" classical labels in all important aspects: artist development, imaginative repertoire choices, and clean, powerful sound. It's difficult to imagine any other company better suited to ideally exploit the multilayered aspects of the Meridian's individual technical skills and precision ensemble. All of this is presented in multi-channel SACD that is as brilliant and natural as you will hear anywhere. If you have an interest in good new music, I recommend this release highly; if you are a brass fanatic, the disc is mandatory 10/10
Only logged in customers who have purchased this product may leave a review.