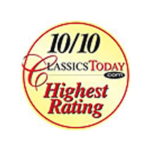 This seventh CD of Rossini's music comprises the remaining eight works from the 'Album de Chteau' (Castle Album). And if you happen to be expecting music about gallant Knights hastening to the rescue of noble Damsels, then you're in for a disappointment. In true Rossinian fashion, not one of these pieces has anything to do with castles or other medieval tableaux. Rossini, here as in his other albums, seems to be thumbing his nose at the musical establishment. It may well have been a kind of ironic wink to the publishers, who were more interested in the title of a composition than in its content because of the potential effect on sales. Fortunately for Rossini, who was ageing and well-to-do by this time, he could afford to ignore such priorities. The CD begins with a 'Prlude Prtentieux' (Pretentious Prelude); pretentious not only in character but also in its polyphonic structure. Here Rossini has written a genuine fugue, using the form to show his reverence for Bach. Then comes the 'Spcimen de Mon Temps' (Specimen of my Times). This work is the second of a trilogy, the first of which can be heard on the sixth Rossini CD and the last of which closes the present recording. Judging by the work's jolly character, Rossini seems to be quite pleased with current developments. The 'Valse Anti-Dansante' (Anti-dancing Waltz) is, as indicated by the title, a crooked waltz suitable for anything but dancing! The pastoral character of the 'Prlude Semipastorale' (Semi-pastoral Prelude) is sliced in half, not to say completely destroyed, in its playful and virtuosic second section. The following 'Tarantelle Pur Sang (avec Traverse de la Procession)' (Full-blooded Tarantella (with the Procession Crossing Through)) is in safe hands with Rossini. This famously wild Italian folk dance has inspired numerous composers including Liszt and Paganini. Rossini's version, true to the nature of the dance, is an exciting piece full of pianistic gymnastics.
Tracklist
Please note that the below previews are loaded as 44.1 kHz / 16 bit.

1.

Prélude Prétentieux

04:49

2.

Spécimen De Mon Temps

11:04

3.

Valse Anti-Dansante

07:26

4.

Prélude Semipastorale

12:31

5.

Tarantelle Pur Sang (Avec Traversée De La Procession)

09:22

7.

Prélude Soi-Disant Dramatique

10:46

8.

Spécimen de l'Avenir

10:18
Total time: 01:15:04
Additional information
| | |
| --- | --- |
| Label | |
| SKU | 24106 |
| Qualities | |
| Channels | |
| Artists | |
| Composers | |
| Genres | |
| Cables | van den Hul T3 series |
| Digital Converters | Meitner A/D DSD / Meitner DA |
| Mastering Engineer | Jared Sacks |
| Mastering Equipment | B&W 803 diamond series |
| Microphones | Bruel & Kjaer, Schoeps |
| Mixing Board | Rens Heijnis custom design |
| Awards | |
| Instruments | |
| Original Recording Format | |
| Producer | Jared Sacks |
| Recording Engineer | Jared Sacks |
| Recording location | Doopgezinde Kerk, Deventer The Netherlands 2006 |
| Recording Software | Pyramix bij Merging |
| Recording Type & Bit Rate | DSD64 |
| Speakers | Audiolab, Holland |
| Release Date | September 11, 2014 |
Press reviews
Musicweb
Whether you come to this because of a love of Rossinis operas or because of a passion for the piano music of the nineteenth century, you will surely find a great deal to enjoy. Theres writing which is beautiful and lyrical; theres writing which is funny; there is even some which, miraculously, is both beautiful and funny.
Classic FM
Three cheers fort he Rossinian delights unearthed by Giacometti in his splendid series (…)
Audiophile Auditions
Parlor-piano selections with humour in both the titles and music.
Pianowereld
Sommige stukken blijven ongepolijste diamanten, andere door Rossini opgedolven edelstenen gaan door hun komische, onbezorgde karakter of door hun pianistische hoogstandjes juist glinsteren dat het een lieve lust is.
Tijdschrift Oude Muziek
Bewonderingswaardige toewijding van Giacometti; ooit laat hij zich bij al deze flauwe kul verleiden tot slordig en gemakzuchtig spel () Adembenemende virtuositeit die nodig is al die hersenloze kolder te vertolken. Ook een vorm van genialteit.
Only logged in customers who have purchased this product may leave a review.