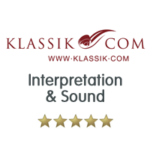 The music of Giovanni Bottesini is a must for double bass players. It was a dream-cometrue for me to have the opportunity to record my favourite Bottesini pieces with my favourite ensemble Amsterdam Sinfonietta, who I have so enjoyed working with for the past ten years. And it is an unforgettable experience to make a recording with friends including the top soloists Liza Ferschtman, Monika Leskovar, Candida Thompson and Hans Eijsackers, not to forget my own sister Christianne.
Tracklist
Please note that the below previews are loaded as 44.1 kHz / 16 bit.

1.

Grand Duo Concertant in A major

15:30

2.

Grande Allegro di Concerto ?alla Mendelssohn?

11:40

4.

Tutto Che Il Mondo serra

05:03

5.

Capiccio di Bravura in A major

08:35

6.

Duo Concertnt on themes from Bellini?s ?I Puritani?

11:47
Total time: 00:57:06
Additional information
| | |
| --- | --- |
| Label | |
| SKU | 32612 |
| Qualities | |
| Channels | 2ch Stereo, 5ch Surround Multichannel, 2ch Stereo & 5ch Surround |
| Artists | |
| Composers | |
| Genres | |
| Cables | van den Hul |
| Digital Converters | Grimm A/D DSD / Meitner DA |
| Mastering Engineer | Jared Sacks |
| Mastering Equipment | B&W 803 diamond series |
| Microphones | Bruel & Kjaer, Schoeps |
| Mixing Board | Rens Heijnis custom design |
| Awards | |
| Instruments | Double bass, Cello, Viola, Violin, Vocal |
| Original Recording Format | |
| Producer | Jared Sacks, Willem de Bordes |
| Recording Engineer | Jared Sacks |
| Recording location | Leiden Holland 2012 |
| Recording Software | Pyramix bij Merging |
| Recording Type & Bit Rate | DSD64 |
| Speakers | Audiolab, Holland |
| Release Date | January 7, 2014 |
Press reviews
Audiophile Audition
As well as a doublebass virtuoso, Bottesini was a celebrated opera composer and conductor in his day. You can tell that right away from the music on this program. (…) the instrument really shines and appropriately, sings in these works (…) Throughout, Dutch virtuoso Rick Stotijn plays with beauty of tone and alacrity (…)
De Volkskrant
De alle kanten uitfladderende flageoletten die Rick Stotijn uit zijn contrabass tovert, geven dit enorme instrument merkwaardig genoeg de allure van een kolibrie of een vlinder. (…)
Trouw
Een cd om heel vrolijk van te worden.
SA-CD.net
The playing of the Amsterdam Sinfonietta (and Rick Stotijn's colleagues in the quintets) is, as we have come to expect from this fine body of musicians, superb. Channel's 5.0 DSD multi-channel recording has a lovely open sound capturing realistically both the rasp and legato sound of Rick Stotijn's instrument in equal measure. Both in terms of its imaginative programming and marvellous execution of the music by the artists involved, this is a wonderful SACD enriched by Channel's exceptionally vivid recorded sound. Enthusiastically recommended – a disc not to be missed.
5 stars performance and sonics
Opusklassiek
Je moet dit gehoord hebben om het te geloven: dat iemand zó virtuoos en zó vrij op een contrabas kan spelen. (…) Zelfs als het echt héél moeilijk wordt blijft zijn spel een klasse apart: wie doet hem dit na? Jongleren, ja, volop zelfs, maar wel intens muzikaal, acrobatiek is geen doel op zich. Rick Stotijn laat zijn instrument bij wijze van spreken alle hoeken van de kamer zien en dat is op zich al een grandioos feest. En dan is er ook het ensemble dat het ene na het andere juweel uit de hoge hoed tovert. (…) Dat het zo met elkaar, met deze keur van solisten en het eveneens de sterren van de hemel spelende Amsterdam Sinfonietta, bijzonder inspirerend moet zijn geweest spat er van begin tot eind vanaf. (…)Tjonge, wát is dit genieten! Capriccio di Bravura? Nou en of!
Nederlands Dagblad
Stotijn laat zijn bas smachten, steunen, maar vooral zingen. Zijn techniek is fenomenaal (…)
Classics Today
The best Bottessini disc ever … (…) Rick Stotijn is a first rate virtuoso, a real master of his instrument. Many of the works here are arrangements, granted, but they are invariably well made, respectful of the originals, superbly played by world class artists, and chosen so as to demonstrate that Bottesini was not an empty-headed noodler on his unwieldy instrument, but a musician of wide-ranging taste and genuine culture. (…) as a splendid recital and a revelatory portrait of a much-maligned composer, this disc stands in a class all its own.
Luister
al luisterend raak je in de ban van de puurheid, de ongecompliceerdheid, de eenvoud in vergelijking met welke andere grotere bezetting dan ook. (…) De twee violen meanderen lustig door elkaar, zuiver, gaaf, levendig (…) een cd van het kleine genieten, een exquise verzameling voorgerechtjes voor de fijnproever.
Hi-fi
Great compositions by extremely gifted composers given exceptional playing by superlative soloists all wonderfully recorded make this another must own SACD. (…)
Classical Music Sentinel
It's difficult to imagine that a musical instrument as heavy and unwieldy as a double bass could sound so light and malleable as it does in this wonderful recording by double bassist Rick Stotijn. (…) There is something for everyone on this CD (…) He plays the double bass with an ease that belies its size and technical demands, so much so that the instrument itself ceases to be the medium and becomes the music.
American Record Guide
the music of Bottesini is played with flair by a bunch of musicians who work well together. Bottesini can take all this arranging since the music is not built for depth but for enjoyment. So enjoy!
String
It never ceases to amaze me how unabashedly delirious and insane Bottesini's music is, and why it is not performed more regularly… It's even more impossible how brilliantly Rick Stotijn carries out Bottesini's delightful intentions, how effortlessly Stotijn soars with his partners in each of these concoctions to places and at speeds where no double bass has any right to go, and how carelessly he is apt to adorn even the simplest lines with subtly colored, poetically inflected nuance. (…) The sound is the usual Channel Classics demontration quality: razor sharp, warm. Full range, and, in surround mode, quietly spectacular.
Audiophile Audition
Rick Stotijn plays with beauty of tone and alacrity (…) The Amsterdam strings provide a lush, cushiony backdrop to the proceedings, all captured in richly atmospheric surround sound (…) a must for doublebassists.
4 STARS
Klassik.com
Rick Stotijn vollbringt am Kontrabass allerlei schier unglaubliche Kunststücke und wird dabei von erstklassigen musikalischen Partnern unterstützt. (…) Der niederländische Kontrabassist Rick Stotijn bedient sein Instrument mit solcher technischer Vollendung und einem derartigen Feingefühl, dass man seinen Ohren kaum traut. Ist das wirklich ein Kontrabass? (…) Virtuosenfeuerwerke werden hier wirklich zu Musik. Seine instrumentalen Mitstreiterinnen und Mitstreiter erweisen sich als ebenso inspiriert und engagiert.
5/5
Only logged in customers who have purchased this product may leave a review.