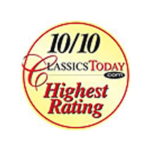 Nachtmusik was a term Wolfgang Amadeus Mozart sometimes used in preference to Serenade or Notturno. The connotations are the same, of music for evening time, performed out of doors, to loved ones, friends, or patrons, to woo, amuse or flatter. But the term can embrace a more shadowy side of life, the way Mahler or Bartók used it. Not so long ago, one British politician blighted the career of a colleague by saying that there was something of the night about him. This recording explores the night-music of Mozart's soul.
On 10th August 1787, in the catalog he kept of his own works, Mozart wrote Eine kleine Nachtmusik beside a piece in G major for strings—not so much a title as a description: 'a little piece of night music.' It is not known why he wrote it, whether to fulfil a commission or for a private occasion, though it is safe to assume that it was performed. In those days, few pieces were written without a particular function in mind. The manuscript shows signs of extreme haste, even for Mozart. For example, doublings are written in shorthand, and large sections of the piece, where the music repeats itself, are simply left out with written instructions about where to find the missing measures. It is this which shows how quickly Mozart was working since he often took the opportunity to alter small details the second time around. Although his haste is visible, it is not audible, and the work is widely accepted as one of the great masterpieces of the genre. By looking at the other works on this recording, an insight into why this is so can be found.
The Serenata Notturna (k. 239) is the earliest piece here, written in Salzburg early in 1776. Serenades were often grand affairs, sometimes one hour long and involving as large an orchestra as could be mustered. A few months later in his 'Haffner' Serenade Mozart used flutes, oboes, bassoons, hhorns,and trumpets, as well as a prominent solo violin. So why this Serenata uses the unlikely (and unique) combination of strings and timpani is a mystery, one which praised a smile as well as a quizzical eyebrow from Mozart's employer, Archbishop Colloredo. Despite the restricted orchestration and the fact that he was becoming increasingly frustrated as a middle-ranking musician in a provincial Austrian court, Mozart's creativity runs riot. He draws a rich variety of colors from the small instrumentation, one moment a full-blooded forte, the next a playful pizzicato. At the start, all the parts combine to deliver a pompous, public fanfare. Then the tutti gives way while a string quartet of two violins, a viola, and a violone (here a small three-string double-bass) play a more private concert. This rocking between public and private, high, and low music runs through the whole piece, notably in the (public) Menuetto and (private) Trio. On paper, the tutti / solo division is reminiscent of a baroque concerto grosso, but the music sounds closer to an operatic scene, such as the party in Don Giovanni. In the final Rondeau Mozart interrupts the flow with a cheeky pastiche of Handel's pseudo-tragic style, and then immediately brings the music back to the here-and-now by breaking into a low folk tune (as yet unidentified but not unlike the 'Strasbourg' tune in the finale of the G-major violin concerto, written just a few months earlier).
Tracklist
1.
Serenade In G Major: Eine Kleine Nachtmusik, K. 525 - I. Allegro
07:46
2.
Serenade In G Major: Eine Kleine Nachtmusik, K. 525 - II. Romance: Andante
05:39
3.
Serenade In G Major: Eine Kleine Nachtmusik, K. 525 - III. Menuetto & Trio
02:08
4.
Serenade In G Major: Eine Kleine Nachtmusik, K. 525 - IV. Rondo: Allegro
05:18
5.
Adagio & Fugue In C Minor, K. 546 - I. Adagio
03:09
6.
Adagio & Fugue In C Minor, K. 546 - II. Fugue
03:50
7.
Menuet In C Major, K. 485a
02:24
8.
Serenade In D Major: Serenata Notturna, K. 239 - I. Marcia: Maestoso
04:17
9.
Serenade In D Major: Serenata Notturna, K. 239 - II. Menuetto & Trio
04:43
10.
Serenade In D Major: Serenata Notturna, K. 239 - III. Rondeau: Allegretto
04:45
11.
Ein Musikalischer Spass (A Musical Joke), K. 522 - I. Allegro
04:48
12.
Ein Musikalischer Spass (A Musical Joke), K. 522 - II. Menuetto (Maestoso) & Trio
07:22
13.
Ein Musikalischer Spass (A Musical Joke), K. 522 - III. Adagio cantabile
06:49
14.
Ein Musikalischer Spass (A Musical Joke), K. 522 - IV. Presto
04:08
Total time: 01:07:06
Additional information
| | |
| --- | --- |
| Label | |
| SKU | 807280DI |
| Qualities | DSD 512 fs, DSD 256 fs, DSD 128 fs, DSD 64 fs, FLAC 192 kHz, FLAC 96 kHz |
| Channels | |
| Artists | |
| Composers | |
| Genres | |
| Mastering Engineer | Brad Michel |
| Awards | |
| Conductors | |
| Instruments | |
| Original Recording Format | |
| Producer | Robin G. Young |
| Recording Engineer | Brad Michel, Chris Barrett – DSD |
| Recording location | Air Studios, Lyndhurst Hall, London |
| Recording Software | Pyramix, Merging Technologies |
| Recording Type & Bit Rate | DSD |
| Release Date | July 3, 2014 |
Press reviews
The Guardian
It is quite an achievement to make a performance of Eine Kleine Nachtmusik gripping and revelatory, but in his first recording as director of the English Concert, Andrew Manze manages it.
As anyone who has heard any of his solo violin discs for Harmonia Mundi will know, Manze has a fresh and lively mind and is never afraid of taking an individual approach to the musical text. That same sense of adventure is present in this collection of Mozart's night pieces, questioning accepted ways of performing music that has become stale through over-familiarity.
Manze manages to create something darkly mysterious out of the central movement of Eine Kleine Nachtmusik for instance, and to give the sound world of the Serenata Notturna a bracing astringency; the C minor Adagio and Fugue in C minor has a stark grandeur. Only A Musical Joke falls flat, but it isn't very funny, anyway.
Classics Today
The title of this exceptional album, "Night Music", should not be taken to mean that the performances are in any way dark, mysterious, droopy, sluggish, or otherwise conventionally "nocturnal". Rather, the term evokes its 18th Century musical meaning: a time for fun, relaxation, parties, entertainment both indoors and out, and of course, romance. Indeed, "Romantic" is perhaps the best way to describe these virtuosic, impulsive, and extravagantly expressive performances by the inimitable Andrew Manze and his team of crack "authentic-instrument" players.
Eine kleine Nachtmusik kicks off the evening in zesty style, with slashing attacks and a powerful sense of forward impetus: no effete mincing here. Manze's subtle tempo modifications (listen to the opening movement's very first piano phrase for an excellent example) and underlining of phrases bespeaks great care and preparation, but he never veers over the top into mannerism. The richly expressive Romance, lively minuet, and dazzlingly swift finale offer a fresh take on music that you've probably heard a million times–and thoroughly justifies listening to performance number one million and one. The same holds true for the Serenata notturna, where the addition of timpani gives the music grandeur as well as charm. The finale, with its "Hallelujah" Chorus interjections, makes a particularly bold and unforgettable impression in this performance.
Coming last, Manze and team offer what strikes me as the finest performance of A Musical Joke ever recorded. Certainly, the work makes its points if you play it "straight", but Manze takes the lunacy to a whole new level. First of all, he understands that in this work the two horns are the musical equivalent of dangerous weapons. In the second half of the minuet's "A" section, for example, he has the horns play correct harmony, only switching to Mozart's foul original at the repeat, where everyone slows down in disbelief at the atrocious results and the ensemble begins to fall apart in shock. It's hilarious and entirely in keeping with the spirit of the piece. Similarly, his solo turns in the same movement's trio and his psychotic take on the slow movement's cadenza offer laughs that never turn crude but remain perfectly believable examples of incompetent excess. The finale flies by at a frantic pace–and goes completely insane at the end. It's an absolutely brilliant performance in every respect.
Adding to the attractions of the major work is a remarkably intense performance of the grim Adagio and Fugue in C minor K. 546, featuring a gratifyingly firm bottom to the string orchestra, while the tiny Menuet and Trio in C K. 485a serve as a palate-cleansing interlude between the former piece and the Serenata.
Whether you listen in DSD Surround or DSD Stereo, you will be rewarded with supremely natural, tactile, and warmly focused recorded sound. Excellent internal balances, rich bass, and an open but never shrill top project the music so that nothing comes between you and a visceral experience of the music itself. Certainly, this is one of the most memorable Mozart albums to appear in many years. Essential!
Only logged in customers who have purchased this product may leave a review.