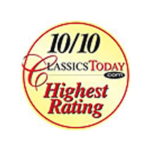 Why Beethoven and Walton? Sir William Walton's Sonata for Strings is a piece that the Amsterdam Sinfonietta has performed with great success both at home and abroad. For this reason we felt that a recording of this work was an obvious choice. It is a powerful composition which gives a string orchestra the opportunity to display all of its discipline, virtuosity, and tone-color. We chose Beethoven's string quartet op. 135 as a companion piece for this recording because of our admiration for the greatness of this final string quartet. The only other recording of this work to date is the Vienna Philharmonic's legendary recording of op. 135 in an arrangement for string orchestra, conducted by Leonard Bernstein. In this earlier recording, the work is performed with a very large group of strings, and Beethoven's composition is realized on a symphonic scale. One important characteristic of the Amsterdam Sinfonietta is that the orchestra is conceived in terms of a string quintet, i.e. a small- scale setting. The orchestra has deliberately remained small in size for the exact purpose of preserving the intimate character of works such as those by Walton or Beethoven. In this way we are able to perform with a maximum of flexibility and articulation. During the recording sessions, attention was devoted not only to the dynamic levels in the score but an effort was also made to give different colors to the various motives. The Amsterdam Sinfonietta strives for the greatest possible expression in this way. Our choice for the combination of these two works is due more to the differences in their musical language than to their similarities…..
Tracklist
Please note that the below previews are loaded as 44.1 kHz / 16 bit.

1.

String Quartet Opus 135 In F-Major - Allegretto

06:51

2.

String Quartet Opus 135 In F-Major - Vivace

03:31

3.

String Quartet Opus 135 In F-Major - Lento Assai, Cantabile e Tranquillo

09:22

4.

String Quartet Opus 135 In F-Major - Grave, Ma Non Troppo Tratto - Allegro

08:03

5.

Sonata For Strings - Allegro

08:40

6.

Sonata For Strings - Presto

04:13

7.

Sonata For Strings - Lento

09:04

8.

Sonata For Strings - Allegro Molto

04:38
Total time: 00:54:22
Additional information
| | |
| --- | --- |
| Label | |
| SKU | 23005 |
| Qualities | |
| Channels | 2ch Stereo, 5ch Surround Multichannel, 2ch Stereo & 5ch Surround |
| Artists | |
| Composers | |
| Genres | |
| Cables | van den Hul T3 series |
| Digital Converters | Meitner A/D DSD / Meitner DA |
| Mastering Engineer | Jared Sacks |
| Mastering Equipment | B&W 803 diamond series |
| Microphones | Bruel & Kjaer, Schoeps |
| Mixing Board | Rens Heijnis custom design |
| Awards | |
| Conductors | |
| Instruments | |
| Original Recording Format | |
| Producer | Sven Arne Tepl |
| Recording Engineer | Jared Sacks |
| Recording location | Leiden Holland 2005 |
| Recording Software | Pyramix bij Merging |
| Recording Type & Bit Rate | DSD64 |
| Speakers | Audiolab, Holland |
| Release Date | May 10, 2014 |
Press reviews
BBC Music Magazine
Im impressed (…) (…) The Walton piece is a complete success, making the piece sound as if it had originallybeen conceived for string orchestra.
Classics Today
The rhythmic precision of the Amsterdam Sinfonietta is simply astounding (…)
Gramophone
The Amsterdam Sinfonietta tear into the beginning of Walton's Sonata for strings with unstoppable vigour, and that pulse of excitement beats throughout a terrific performance. But ferocity is tempered by great delicacy and sweetness …Beethoven's final string makes a perfect companion piece. cd of the month
Audiophile Audition
The Walton possesses an eerie beauty and wispy melancholy. (…) (…) The surround sound medium is a perfect vehicle for the antiphonal and fugato strings in the opening movement. The Presto is a fierce, bravura study in motion and timbre, including col legno effects. The modal Lento is the heart of the piece, and it has a heart-throb impulse reminiscent of Tchaikovskys Andante cantabile. The Allegro molto throws a series of metric configurations at us, settling on a light, tremolando motif that bristles more or less savagely as it proceeds. A folkish viola melody over plucked strings brings a decidedly bucolic air palliative to the fitful fevers. (…)
Klassieke Zaken
Beethovens laatste kwartet klink verrassend overtuigend. (…) (…) Bij Walton worden de contrasten prachtig uitgespeeld in een interpretatie die uitblinkt in oprechte musiceer vreugde.
Hifi Video Test
Virtuositeit en spelvreugde: Fenomenaal!! (…)
Rondo
Beethovens letztem Streichquartett bekommt die grere Brennweite berauschend gut: Der serenadenhaft-gelste Grundton kommt im fabelhaft homogenen, opulent eingefangenen Sound der Amsterdamer sogar noch schlackenloser, tierischer zur Geltung als im Original. Selbst der zwangsläufige Verlust an inniger Sanglichkeit und Schlichtheit im Lento Assai wird durch eine berhhung ins Feierlich-Erhabene einleuchtend kompensiert. (…)
Het Parool
Beethoven's laatste strijkkwartet: het allermooiste dat ik ooit heb gehoord. … wat op de deze plaat gebeurt, tart elke beschrijving. Wat spelen de dames en heren van dit strijkorkest onwaarschijnlijk poetisch en met een klank van het zachtste satijn.
Only logged in customers who have purchased this product may leave a review.