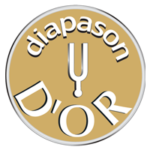 She was imprisoned for many years behind the iron curtain, but after the walls collapsed she became a much-praised composer, particularly in the west: Sofia Gubaydulina. Born in 1931 in Tatarstan, the composer studied piano and composition at the Kazan conservatory, and later continued in composition with Nikolai Peiko and Vissarion Shebalin at the Moscow conservatory.
Until 1992 she lived in Moscow; nowadays she lives in her house in the country, in Appen, near Hamburg. Valery Gergiev gave the world premiere of Gubaydulina's St. John Passion, a major work for soloists, choir, organ, and orchestra, composed for the 250th anniversary of Bach's death, and dedicated to Gergiev and the chorus and orchestra of the Mariinski Theatre of St. Petersburg. Since then he has repeated the work a number of times, including a performance in 2002 in his capacity as principal conductor of the Rotterdam Philharmonic. Working for many years in complete isolation and without much official recognition, Gubaydulina produced an extensive and avant-garde instrumental oeuvre for the most unusual instrumental combinations. Since her move to Germany, she has composed one surpassingly inspired work after another.
One of them is 'The canticle of the sun' (1997), a cello concerto which is actually a hybrid between cello concerto and choral music, and in fact even more than that: the piece is based on 'Il cantico frate sole', the Hymn to Brother Sun of Francis of Assisi, a song of praise dedicated to God, to the sun, to all of creation, but also to death 'da la quale nullo homo vivente può scappare' (from which no man can escape). Gubaydulina composed 'The canticle of the sun' for the 70th birthday of a man who was, in her words, "the greatest cellist of the 20th century", "Slava" or Mstistlav Rostropovich, a musician "with a sun-drenched personality". The work lasts a bit less than 40 minutes and consists of four movements. The first is dedicated to the Creator of the sun and moon, the second to the Creator of the four elements, the third to life, and the fourth to death. In order not to compromise the character of St Francis, holy in the eyes of the composer, she has limited the contribution of the chamber choir and kept it somewhat enigmatic, and delegated the most powerful expression to the cello part and the percussion section. In this way the choir's contribution has a fragmentary and coloristic effect. In the course of the piece, the cellist has to play at a lower and lower pitch until he reaches the bottom of his range. After that he must still bring forth some scraping sounds by playing below the bridge, rattling a drum, and playing a flexatone with a double bass bow.
Tracklist
1.
The Canticle Of The Sun
40:50
2.
Preludes For Violoncello Solo - Staccato-Legato
01:12
3.
Preludes For Violoncello Solo - Legato-Staccato
02:19
4.
Preludes For Violoncello Solo - Ricochet
01:18
5.
Preludes For Violoncello Solo - Arco-Pizzicato
01:13
6.
Preludes For Violoncello Solo - Pizzicato-Arco
03:34
7.
In Croce For Cello And Bajan
16:27
Total time: 01:06:53
Additional information
| | |
| --- | --- |
| Label | |
| SKU | 20904 |
| Qualities | |
| Channels | |
| Artists | |
| Composers | |
| Genres | |
| Cables | van den Hul T3 series |
| Digital Converters | Meitner A/D DSD / Meitner DA |
| Mastering Engineer | Jared Sacks |
| Mastering Equipment | B&W 803 diamond series |
| Microphones | Bruel & Kjaer, Schoeps |
| Mixing Board | Rens Heijnis custom design |
| Awards | |
| Conductors | |
| Instruments | |
| Original Recording Format | |
| Producer | Jared Sacks |
| Recording Engineer | Jared Sacks |
| Recording location | The Singel Antwerp, Deventer The Netherlands 2003 |
| Recording Software | Pyramix bij Merging |
| Recording Type & Bit Rate | DSD64 |
| Speakers | Audiolab, Holland |
| Release Date | January 1, 1970 |
Press reviews
www.positive-feedback.com
Un indispensable album pour les férus de musique contemporaine. Cinéfonia (…) Pieter Wispelwey se distingue par son émotion continue, ses traits ciselés et la subtilité de ses nuances. (…) Le Monde de la Musiques (…) He brings to it the most ecstatically spiritual sound I have ever heard from a cello. Firm, lithe and luminous, his tone complements the Collegium Vocale perfectly. (…)
American Record Guide
Wispelwey's feeling for continuity and mood is so good that I'd like to hear him to do them all.
Fono Forum
Rätselhafter Schönheit (…) (…) Gubaidulina schreibt Musik, in der die Befindlichkeit unserer Zeit eindrücklich reflektiert wird. Crescendo Ekstatisch!!
Hifi Video Magazine
Een grote luister uitdaging, luister er vaak naar, heel vaak en je zult steeds meer ontdekken. Spanning, metafysische krachten en grote spiritualiteit. Een ware ontdekkingsreis en een lust voor het oor!!
BBC Music Magazine
The admirable cellist Pieter Wispelwey (…) (…) Very recommendable, especially if you want some of the composer's most eloquent works. very recommendable, especially if you want some of the composer's most eloquent works.
International Record Review
Wispelwey's interpretation is beautiful: he has thought extremely carefully about the placing and tonal quality of each note he plays. (…) (…) Wispelwey has chosen to include Gubaidulina's preludes for solo cello and he really makes them his own, with a combination of formidable technique and lustrous tone. In Croce, for cello and bajan (Russian accordion) is one of the composer's most intense work, here it is superbly performed by the Belgian bajan player An Raskin. They penetrate into the work's highly charged symbolic and poetic vocabulary in an extraordinary fashion.
Trouw
Fantastisch. Wispelwey speelt het stuk met een ongelooflijke power en fantasie en overtuigd van begin tot eind. En wat een schitterend koor.
Luister
Pieter Wispelwey geeft alles in deze uitvoering, het koor en de slagwerkers worden door Daniel Reuss tot een grootse prestatie gedreven en de opname is perfect. (…)
HVT
Luister er vaak naar, heel vaak en je zult steeds meer ontdekken. Spanning, metafysische krachten en grote spiritualiteit. Prachtig opgenomen, dat ook nog eens. (…) De preludes voor cello solo en bajan zijn een ware ontdekkingsreis en een lust voor het oor!
La Libre
Mise à l'honneur de Sofia Gubaïdulina, compositrice russe née en 1931, révélée en Europe occidentale au début des années 90 et établie depuis à Berlin. Son écriture, éminemment personnelle, libre de tout dogme, mue par des forces à la fois mystiques et telluriques, est, en plus, régie par une science accomplie: une nouvelle preuve en est donnée avec le 'Canticle of the Sun' (1997), basé sur le poème de François d'Assise. Avec cette trouvaille: les paroles, confiées au choeur – magnifique Collegium -, sont laissées à distance et forment l'environnement sensoriel plutôt que linguistique du violoncelle à qui appartient le véritable discours. (…)
De Standaard
Pieter Wispelwey laat iedere noot sprankelen en zijn solopartij klinkt bijzonder present: soms verleidelijk, dan wrang, dan weer ingetogen. Het Collegium Vocale voegt onthechtte engelenstemmen toe en de drie leden van het Prometheus Ensemble sluiten daar mooi bij aan. (…) De etudes voor cello solo 'In Croce' voor cello en accordeon zijn een charmant opvullertje waarin Wispelwey nogmaals zijn fabuleuze techniek kan bevestigen. (…)
Daily Telegraph
Along with the crack singers of the Collegium Vocale Gent and percussion players of the Prometheus Ensemble, the Dutch cellist finds all the beauty and spiritual atmosphere of the work. (…) (…) played by Wispelwey with passion and incisiveness.
Diapason
A l'image d'une Wispelwey offrant une finesse de son remarquable, au prix d'une audace contenue, l'entreprise évite les vertiges de la tempête pour recouvrir l'auditeur d'une fraîche et subtile pluie d'étoile (le numéro final, tender éblouissement)
Gramophone
Wispelwey's background makes him a stylish exponent of this eerie music. (…) His individuality makes him an ideal soloist on the rather eerie Canticle, and it is this and the immediacy of his playing which makes his performances of the brief Preludes as gripping as his Bach interpretations. (…) (…) In Croce……. provoking explosions of sound when their lines cross. A suitable intense climax to a powerful disc.
Only logged in customers who have purchased this product may leave a review.