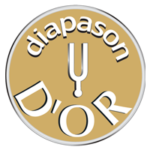 Exclusive DSD Download, Never Released on SACD or as a DSD Download
In November of 2001, one of my first recordings using the DSD technology was in a small unknown church – Dorset England.  Rachel Podger had chosen the church as she had played a concert there as some point and thought it would be perfect for the solo Telemann Sonatas. I agreed sight unseen.
The church turned out to be very small with very close side walls with no place for me to sit with my equipment.  Granted it was very silent ( in the middle of fields) but I was just not happy with the acoustics so that I decided to only release this album on a CD in normal 16 bit, 44.1 kHz PCM.
A couple of months ago I listened to the DSD master again and have now decided to still bring this album out in DSD Stereo and DSD 5 Channel Surround Sound.  DSD does give the extra dimension of imagery and honesty to the sound which in the end does enlighten the music listening.  — Jared Sacks
Johann Mattheson in Der Vollkommene Capellmeister (Hamburg 1739) says about a fantasia: "Even though they (the fantasias) all give the impression of being played ad-lib, most of them are nonetheless written down properly, however, they are so very little kept in place and order that no one could hardly find a better general term to designate them than the one describing a good idea." Good ideas they are indeed, and plenty of them! They often occur in rapid succession, chasing each other across the page in vibrant fast movements, pausing here and there to give room for the next inspiration, or unfolding gradually and reflectively in poignant slow movements. Unconnected ideas stand next to each other, unaware of each others presence: motifs, rhythms, sequences of intervals and melodic lines change direction and character at a whim. Broken chords alternate with agitated scales and passagework, grave and solemn passages appear next to dance-like ones. The musical story throughout the movements is always clear as you become aware of Telemann's ingenious way of giving free reign to his imagination within a cohesive underlying musical structure…."
Rachel Podger – Violin
Tracklist
Please note that the below previews are loaded as 44.1 kHz / 16 bit.

1.

Fantasia 1 in B flat Major

08:18

2.

Fantasia 2 in G Major

04:49

3.

Fantasia 3 in F Minor

05:26

4.

Fantasia 4 in D Major

05:15

5.

Fantasia 5 in A Major

05:14

6.

Fantasia 6 in E Minor

09:02

7.

Fantasia 7 in E flat Major

08:46

8.

Fantasia 8 in E Major

05:50

9.

Fantasia 9 in B Minor

06:41

10.

Fantasia 10 in D Major

05:57

11.

Fantasia 11 in F Major

06:16

12.

Fantasia 12 in A Minor

04:46
Total time: 01:16:20
Additional information
| | |
| --- | --- |
| Label | |
| SKU | 18298 |
| Qualities | |
| Channels | |
| Artists | |
| Composers | |
| Genres | |
| Cables | van der Hul |
| Digital Converters | DCS 950 AD converter |
| Mastering Engineer | Jared Sacks |
| Mastering Equipment | B&W 803 diamand series |
| Microphones | Bruel &Kjaer |
| Mixing Board | Rens Heijnis custom made |
| Awards | |
| Instruments | |
| Original Recording Format | |
| Producer | Johnathan Freeman Attwood |
| Recording Engineer | Jared Sacks |
| Recording location | St. Micahels Church, West Compton, Dorset UK |
| Recording Software | Pyramix |
| Recording Type & Bit Rate | DSD64 |
| Release Date | April 10, 2015 |
Press reviews
Fanfare
Strongly recommended.
American Record Guide
she naturally flows from one inventive musical thought to the next with never a rushed moment. () Wet paint () Podger certainly shows both the technique and the temper for these works, in carefull shaped and thoughtful performances. ()
Turoks Choice
Fantastisch voor wie eens wat anders wil horen dan Bachs sonates en partitas () vividly played ()Performace/Sound *****
Rondo
Rachel Podger zet 12 mooie miniatuurtjes neer () Luister () Podger spielt die Barockvioline so sinnlich, so blut- und so glutvoll, wie man es sonst bei diesem Instrument nicht unbedingt gewohn ist ()
Klassieke Zaken
Podger speelt het allemaal met zwier en gevoel voor theater en dat is door de technici van Channel prachtig vastgelegd. ()
Het Parool
Deze violiste kan ik 2002 zonder enige opsmuk de 12 Fantasien voor soloviool op de plaat zetten. () () Podger laat er geen misverstand over bestaan dat Telemann minstens zo inventief was als zijn lichtend voorbeeld J.S. Bach
BBC Music Magasine
Podgers tone is warm and it is a manner of sensitive declamation that I find convincing and affecting
Gramophone
she dances her way easily and gracefully through the music () () clean intonation, pleasingly resonant tone and a palpable sense of natural and spontaneous enjoyment.
Only logged in customers who have purchased this product may leave a review.