Last August we visited the DSD Studio to tell you about 3 upcoming albums being recorded for release in Direct Stream Digital (DSD). They were Yuko Mabuchi Plays Miles Davis with the Yuko Mabuchi Trio with JJ Kirkpatrick from Yarlung Artists, Drown by John Babel from TRPTK and I Want You by Vanessa Fernandez from Groove Note.
Now that all 3 of these albums have been released in DSD (and are available at the NativeDSD Music store), I thought it would be time to see what is happening In The DSD Studio. What I've found, as always, is that there are indeed some very interesting albums just released.
Michelle Mayne-Graves & Lifeline Quartet – Lifeline: Music of the Underground Railroad
A fine place to start is with Yarlung and their release from Michelle Mayne-Graves and the Lifeline Quartet. Yarlung Producer Bob Attiyeh and Special Advisor Billy Mitchell are the duo that brought the Yuko Mabuchi Trio to Yarlung and NativeDSD. So, it is only fitting that we start this edition of In The DSD Studio with their latest discovery – Michelle Mayne-Graves and the Lifeline Quartet.
The quartet brings gospel music and spiritual music from the Underground Railroad to life. In the Lifeline Quartet's upcoming DSD release, Lifeline: Music of the Underground Railroad, they perform 12 spiritual songs including Down by The Riverside, Motherless Child, Nobody Knows the Trouble I've Seen and When The Saints Go Marching In.
To give you a taste of what is in store on this album, look (and listen) to this YouTube video of the quartet performing Wade In The Water. It's a powerful track that demonstrates why this album has been much anticipated. It is available in DSD Stereo and DSD Multichannel, exclusively at NativeDSD, it really is something special!
Moreno Viglione, Renato Gattone, Augusto Creni – The Manouche Project
Next we have an album from the team at Forward Music Italy titled The Manouche Project. It features the trio of Moreno Viglione, Renato Gattone, and Augusto Creni.
NativeDSD listeners will recognize Renato Gattone as the producer and creator of the album Les Chats Noir (The Black Cats), a wonderful DSD Stereo recording that features the French Jazz Swing music. Les Chats Noir has been a listener favorite at NativeDSD for some time and was recently one of our first releases in Stereo DSD 512. (It sounds great in DSD 512, in case you haven't heard it yet!)
For the new project, Moreno Viglione, Renato Gattone, and Augusto Creni are recording at Forward Music Studios in Italy using a Merging Technologies Hapi Analog to DSD Converter. The album is being recorded in native DSD 256 and promises to be a fine follow-up to Les Chats Noir. (It's on my want list already, even though it's still in the studio).
Introducing Merel Vercammen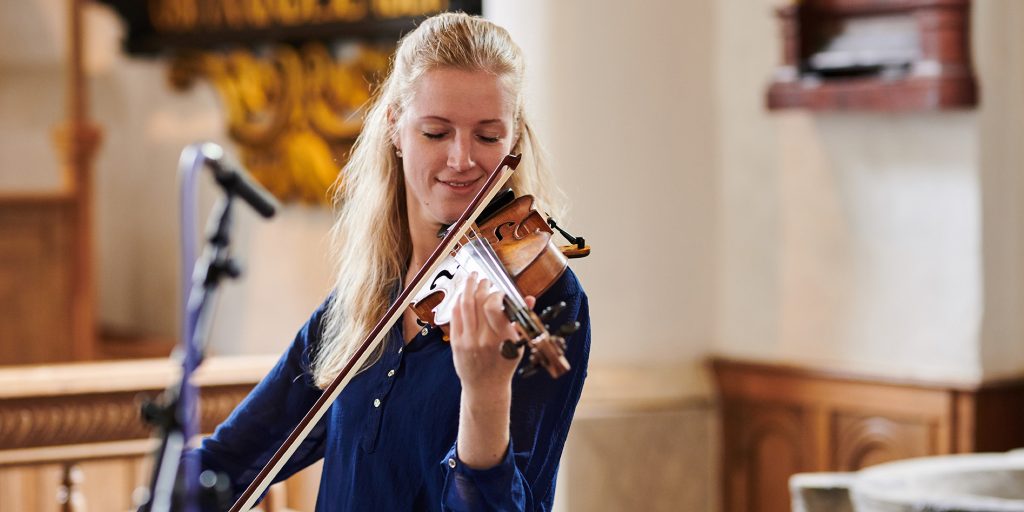 The team at TRPTK is also In The DSD Studio these days. Their current project is an album titled Introducing Merel Vercammen. The album is due out in the Fall and will feature the violinist with soprano Bernadeta Astari and cellist Maya Fridman (who already has several DSD releases at the NativeDSD Music store)..
Recording for this album is happening at the Old St. Victor Church in Batenburg. The sessions will be TRPTK's first recording using a full surround kit of top of the line DPA Microphones, paired with ultra-high-end custom microphone cables by Furutech going directly into a Merging Technologies HAPI converter.
TRPTK is also taking full advantage of this venue and setup. They have another session planned with Merel Vercammen and vibraphonist Vincent Houdijk. So, we have yet another DSD album from TRPTK on the way! What can I say, the DSD Studio activity is very busy these days.
Dana Zemtsov & Anna Fedorova – A La Francaise
To round things out, we have A La Francaise with Dana Zemstov and Anna Fedorova. This project at Channel Classics with Producer and Recording Engineer Jared Sacks featured a live recital in front of a small audience of 10 at MCO in Hilversum, The Netherlands.
The album will feature all French inspired music by non-French composers, except for the very beginning and very end of the album. The first piece is Milhaud's Sonata No. 1 for Viola and Piano and the last piece is Fauré's Après un Rêve. In between we find French inspired music by Enescu, Clarke, Werkman and Kugel. All performed by Zemstov on Viola and Fedorova on Piano. The album is due out in November 2019.
(update, this album is now available, see below Silhouettes)
In the meantime, Dana Zemtsov and Anna Fedorova have several DSD albums available at NativeDSD Music. You are invited to give them a listen during your next visit to the NativeDSD Music store.
Dana Zemstov at Native DSD Music

Anna Fedorova at Native DSD Music