New does not always mean New
In a highly competitive field, labels must look for new avenues to satisfy classical music lovers' appetite having already umpteen versions of Ludwig van Beethoven's violin concerto on their shelves. Many ripe and green examples have passed my player. Some interesting, some less so. In fact, on the road to searching for new, contemporary music seems to be riding high.
However, new is not always better. Being inventive, joggling with sound, attract listeners' attention with a profusion of strange noises, may hit the moon, but one mustn't forget that remaining with the eternal wisdom of the stars, some recent music using yesterday's tools can still evoke much emotion amongst traditional souls like me.
Moreover, answering the question of whether the musical means of the past have become obsolete, as some claim, I'd respond that there is still so much more to say with the 'old' language. Ståle Kleiberg proves my point. The vocabulary with which he impresses his audience, be it to elicit nostalgia or to convey deeply moving sorrow, remains in the melodiously tonal realm.
"A Town Thriving on Music"
Choosing (members of) the Trondheim Symphony Orchestra to record Kleiberg, once its composer-in-residence, is a logical and gratifying one. The musicians are well equipped for the task at hand. But that isn't all. To illustrate the standing of this provincial Norwegian orchestra, it ought to be taken as a clear indication of excellence that the American conductor, James Gaffigan, has just signed a two-year contract to become its next music director.
For those wondering what its relation is with fellow-townsmen musicians, playing under the name 'Trondheim Solistene', an ensemble having earned many international accolades in Hi-Res circles it is worthwhile to note that both orchestras work closely together, notably in the field of chamber music, sharing 10 string players.
Norway has indeed more to offer to the classical music community than the orchestras of Bergen and Oslo (and don't forget Stavanger). Trondheim is "a town thriving on music", says Daniel Hope, a South African-born violinist, now living in Berlin, in a BBC article 'Musical destinations: Trondheim, Norway' on the Trondheim Chamber Music Festival.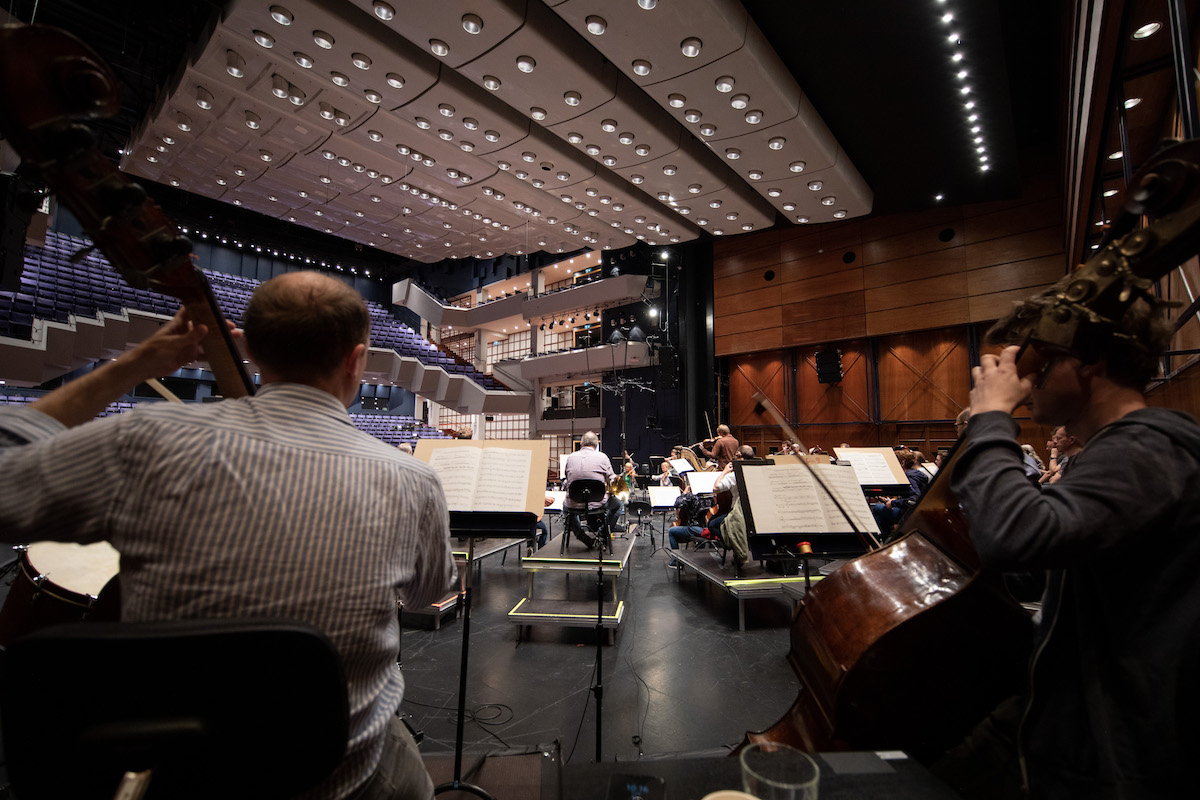 Nostalgia Has Many Colors
Living in the Northern Hemisphere, the month of August is a crucial moment for me and others. With a loss of 2 hours of daylight, it feels as though it begins in the Summer to end in Autumn. Foreboding those leaves will soon start turning red or yellow depending on where you live. Nostalgia creeps in.
Not to worry, though. It has its positive side, too. It means having more time to catch up with preferred or to listen to new music. For these moments of autumn blues, Ståle Kleiberg is the perfect antidote. The many colors of his music have a soothing effect allowing the listener to come to terms with what was and cherish whatever is still in store. Enjoy!
"It is hard to imagine a better performance of this piece…"
La Lumiere Soleil
Marianne Thorsen, a child of Trondheim, and widely appreciated by connoisseurs for the purity of her playing, recorded to great acclaim Kleiberg's first violin concerto, glowingly reviewed by HRAudio's John Miller saying: "It is hard to imagine a better performance of this piece; her purity of tone, strength and control of line, vibrant expressiveness and formidable technical ability make for a gripping and moving interpretation", to which I have nothing to add.
With the second, she is once best placed to interpret the meticulously colored score of which Kleiberg holds the secret. Despite having been composed as recently as 2017, it follows a traditional pattern of mostly restrained and beautifully shaded harmonics that fall pleasantly on the ear but are nonetheless models of ingenious construction.
Dedicated to and premiered on the 22nd of December 2017 to celebrate the 80th birthday of the Norwegian painter, Kjell Parr-Iversen, it is a transcript into music of his visual art, described as 'The light of sunlight' because of his vivid color settings with lots of yellows and reds. And although the music is not vivid to a similar degree, the bright colors of Parr-Iversen and the delicately considerate palette of Kreiberg have, not knowingly, something else in common, which in my view can best be associated with that hard to define feeling of nostalgia, the longing for something that has gone, or is in scarce supply, like during the extensive wintertime of Norway: Daylight.
Miraculously, Thorsen's eloquent performance, emphatically supported by the warm strings of the TSO, gives the listener many opportunities to wallow in nostalgia, enjoying her sensitive reading of a broadly brushed color scheme drawn in honor of a notable Norwegian painter. What a gift!
Vikings may not show it so openly, but they do have a strong Emotional Antenna
In my view, the most pertinent part of this release is the Cello Concerto. Written three decades ago, it bears witness to atrocities committed during the Balkan wars. A desperate reminder that so many years after the Second World War 'ethnic cleansing' has not disappeared (and most probably won't in the future either). Many would not so easily associate such openly demonstrated feelings of grief with reserved Norwegians. Clearly a mistake.
Solo cellist, Fredrik Sjölin, educated at Trondheim's School of Music, gives ample expression to Kleiberg's dramatic score. With passionate support from the strings of the orchestra, the listener is drawn into the sadness of time. A sweeping (In my first draft I wrote 'weeping', which is what I felt at that moment) performance that will stay with you long after it is over.
For those who don't know: Fredrik Sjölin is a member of the world-famous Danish String Quartet and plays on an F. Ruggieri (1688) cello, loaned through the Anders Sveaas Charitable Foundation, which is – no doubt, though only partly – responsible for his authentic and admirably developed tone.
Custom Built in a Pastoral Setting
According to Ståle Kleiberg's excellent notes, and, therefore, coming from the 'horse's mouth', his Viola Concerto (2019) is based upon "Edvard Munch's variants on the Dance of Life theme provided the inspiration for this work, which unfolds somewhere in the space between poetry, passion and play". Notwithstanding having to take his word for it, this wonderful and cleverly designed composition has, in my view, also a typical Norwegian pastoral ring around it.
Be that as it may, written for Eivind Ringstad, prize winner of the 2012 European Broadcasting Union (EBU) competition for young musicians, and the Trondheim Symphony Orchestra, one could not have wished for a better teamwork performance, the more so because Peter Szilvay's – Mariss Jansons one time assistant at the Oslo Philharmonic – inspirational orchestral grip, efficaciously harmonizes the various inputs from the soloist on the one hand and the individual instrument groups on the other.
"Listen to the music and forget about the neighbors. (They might actually like it!)"
Immersive Surround Sound
Although some would rather sit in the hall than on stage, lovers of Immersive Surround Sound get preferential treatment. In keeping with 2L's usual soundstage ("Recorded music is no longer a matter of a fixed one-dimensional setting, but rather of a three-dimensional enveloping situation"), and provided the Multichannel DSD playback equipment allows it, the listener is put in the royal 'immersive' seat, well in the middle of all the action.
Morten Lindberg, 2L's sound wizard, has spared no effort to get the full frequency spectrum across with the highest possible degree of reality, without any hint of distortion. So, don't spare your speakers. Listen to the music and forget about the neighbors. They might like it!
Copyright © 2021 Adrian Quanjer and HRAudio