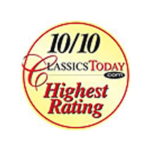 As a composer Pergolesi's productive career began at the age of twenty, and by twenty-six (March 1736) he had died of tuberculosis. During his lifetime Pergolesi's fame was restricted, in the main, to Rome and Naples, yet after his death, his reputation eclipsed most other composers in the second half of the eighteenth century. The whole of Europe developed an increasing curiosity for his compositions. His posthumous celebrity status was such a magnet in the music world that, hoping to reap large financial profits, publishers and opera directors alike attributed his name to hundreds of vocal and instrumental works by lesser-known composers. Following Pergolesi's death the Stabat Mater became one of the most celebrated and frequently printed works of the 18th century.
Tracklist
Please note that the below previews are loaded as 44.1 kHz / 16 bit.

1.

Stabat Mater - Stabat Mater

03:58

2.

Stabat Mater - Cujus animam gementem

02:27

3.

Stabat Mater - O quam tristis

02:10

4.

Stabat Mater - Quae moerebat et dolebat

02:15

5.

Stabat Mater - Quis est homo

03:17

6.

Stabat Mater - Vidit suum dulcem Natum

03:35

7.

Stabat Mater - Eja Mater

02:14

8.

Stabat Mater - Fac ut ardeat cor meum

02:16

9.

Stabat Mater - Sancta Mater

05:33

10.

Stabat Mater - Fac ut portem

03:38

11.

Stabat Mater - Inflammatus et accensus

02:01

12.

Stabat Mater - Quando corpus ? Amen

04:33

13.

Flute Concerto in G major - Spiritoso

04:15

14.

Flute Concerto in G major - Largo

04:11

15.

Flute Concerto in G major - Allegro spiritoso

04:35

16.

Sinfonia in F major for cello and continuo - Comodo

01:09

17.

Sinfonia in F major for cello and continuo - Allegro

01:48

18.

Sinfonia in F major for cello and continuo - Adagio

01:56

19.

Sinfonia in F major for cello and continuo - Presto

02:11

20.

Salve Regina in F minor - Salve Regina

04:10

21.

Salve Regina in F minor - Ad te clamamus

04:35

22.

Salve Regina in F minor - Eja ergo, advocata nostra

01:32

23.

Salve Regina in F minor - Et Jesum

02:17

24.

Salve Regina in F minor - O clemens

01:47
Total time: 01:12:23
Additional information
| | |
| --- | --- |
| Label | |
| SKU | 29810 |
| Qualities | DSD 512 fs, DSD 256 fs, DSD 128 fs, DSD 64 fs, FLAC 192 kHz, FLAC 96 kHz |
| Channels | |
| Artists | |
| Composers | |
| Genres | |
| Cables | van den Hul |
| Digital Converters | Grimm A/D DSD / Meitner DA |
| Mastering Engineer | Jared Sacks |
| Mastering Equipment | B&W 803 diamond series |
| Microphones | Bruel & Kjaer, Schoeps |
| Mixing Board | Rens Heijnis custom design |
| Awards | |
| Instruments | |
| Original Recording Format | |
| Producer | Ashley Solomon, Jared Sacks |
| Recording Engineer | Jared Sacks |
| Recording location | London England 2010 |
| Recording Software | Pyramix bij Merging |
| Recording Type & Bit Rate | DSD64 |
| Speakers | Audiolab, Holland |
| Release Date | January 22, 2014 |
Press reviews
Luister
een stuk met een onmiskenbare magie (…)
(…) Adembenemende muziek met een heel eigen stempel van een geniale componist (…)
Classics Today
Here's the way I began my last review of a new recording of Pergolesi's Stabat Mater: "Just when you question the need for yet another recording of . . .(fill in the blank), you hear something-a recording such as this one-that not only erases your doubts, but also reminds you why you keep coming back for more: the performer.
Welsh soprano Elin Manahan Thomas has a lovely, clear, pleasingly bright tone and all the right stuff for Pergolesi's most lyrical and lively lines; countertenor Robin Blaze never has sounded better, his timbre warmly resonant, his technique fluid and effortless, his intelligence and thoughtful interpretive manner on impressive display-and proving a perfect match for Thomas. And speaking of instruments, also to be commended are the Florilegium instrumental players, who include the group's director, flutist Ashley Solomon, and cellist Jennifer Morsches, both of whom offer excellent additions to the program-the delightful (if doubtfully by Pergolesi!) Flute Concerto in G major and the (authentic) Sinfonia in F major for cello and continuo. (…)
(…) Highly recommended (even if you already have one or two others!).
Classic ƒM
Beauty and technical ease combine in a performance that captures Pergolesi's subdued reverence. (…)
Lesser-known instrumental works provide extra interest.
Classica
Prise de son fruitée, particulièrement pour la flûte et le violoncelle
L'ensemble impose une grâce délicate (…)
Fanfare
The singing and playing are superb. This disc ranks with the best versions available.
HVT
Een meesterwerk (…)
(…) De sopraan en countertenor 'matchen' geweldig in de duetten en hebbeb iedera fzonderlijk prachtige stemmen. Het ensemble speelt met veel lucht om de instrumenten en treffen met hun 'adem' de sfeer perfect.
Opus Klassiek
Regelrecht meesterwerk.
(…) Florilegium belicht een boeiend aspect van deze geweldige partituur.
Zingmagazine
de sopraan en tenor zingen heel alert en stralen tegelijkertijd rust uit. Ze houden de pathetiek eruit en zoeken de expressie in het dansante. De hoge stem is bijzonder: licht en helder, maar met een wonderlijk kruidig vleugje. De tenor is ook te horen in een mooi verzorgd Salve Regina.
Volkskrant
een bijzonder subtiel stuk, dissonanten en voorbehoudingen dwingen elkaar langzaam neerwaarts. Het stuk krijgt een schitterende serene en toch van smart doortrokken uitvoering door het ensemble Florilegium, de zonnige sopraan Elin Thomas en de countertenor robin Blaze (…) Een alleraardigst fluitconcert en een voortreffelijke Sinfonia voor orkest en cello geven seculier tegenwicht.
BBC Music Magazine
"Paradises observed in awesome quietness before a dazzling Amen"
The singers are intensely sensitive in the six descriptive and six pleadingly prayerful verses of the Stabat Mater.
(…) this new disc matches the competition in vocal quality and excels in the clarity of Florilegium's single strings. Above all, the spaciousness of its surround-sound recording is often breathtaking. Shut your eyes, and your room expands to he scale of the London church where it was recorded, bathing the sound in its glorious acoustic. (…)
(…) Ashley Solomon's flute tone to create delightful transparency in this sunny concerto, while Jennifer Morches's cello, is refreshing clear, unaffected, almost gamba-like.
BR-Online
die Interpretation bleibt auf subtile weise dem Text verpflichtet und fasziniert gerade durch diese Herangehensweise, ohne an Spannung zu verliern. Den beiden perfekten Gesangssolisten und dem Countertenor gelingt eine höchst empfindsame Gestalttung
Only logged in customers who have purchased this product may leave a review.