The Norwegian Girls Choir and pianist Tord Gustavsen combine their talents in a programme of popular and cherished Christmas carols, leading the audience from quiet melancholy to expressive improvisations and sparkling, ecstatic moments. Anne Karin Sundal-Ask directs the performances with attention to each individual singer and to the distinctive sound of the choir as a whole. Through their warm musical presence, Gustavsen and these radiant young voices appeal to our very hearts.
2L's recording philosophy
Immersive Audio is a sonic sculpture that you can literally move around and relate to spatially; surrounded by music you can move about in the aural space and choose angles, vantage points and positions. Stille Grender was recorded in discrete 7.1.4 at DXD resolution.
The beauty of the recording arts is that there is no fixed formula and no blueprint. It all comes out of the music. Every project starts out by digging into the score and talking with the composer, if contemporary, and the musicians. It is not our task as producers and engineers to try to re-create a concert situation with all its commercial limitations. On the contrary; we should make the ideal out of the recording medium and create the strongest illusion, the sonic experience that emotionally moves the listener to a better place.
Large Spaces
2L record in spacious acoustic venues: large concert halls, churches and cathedrals. This is actually where we can make the most intimate recordings. The qualities we seek in large rooms are not necessarily a big reverb, but openness due to the absence of close reflecting walls. Making an ambient and beautiful recording is the way of least resistance. Searching the fine edge between direct contact and openness – that's the real challenge! A really good recording should be able to bodily move the listener. This core quality of audio production is made by choosing the right venue for the repertoire, and by balancing the image in the placement of microphones and musicians relative to each other in that venue.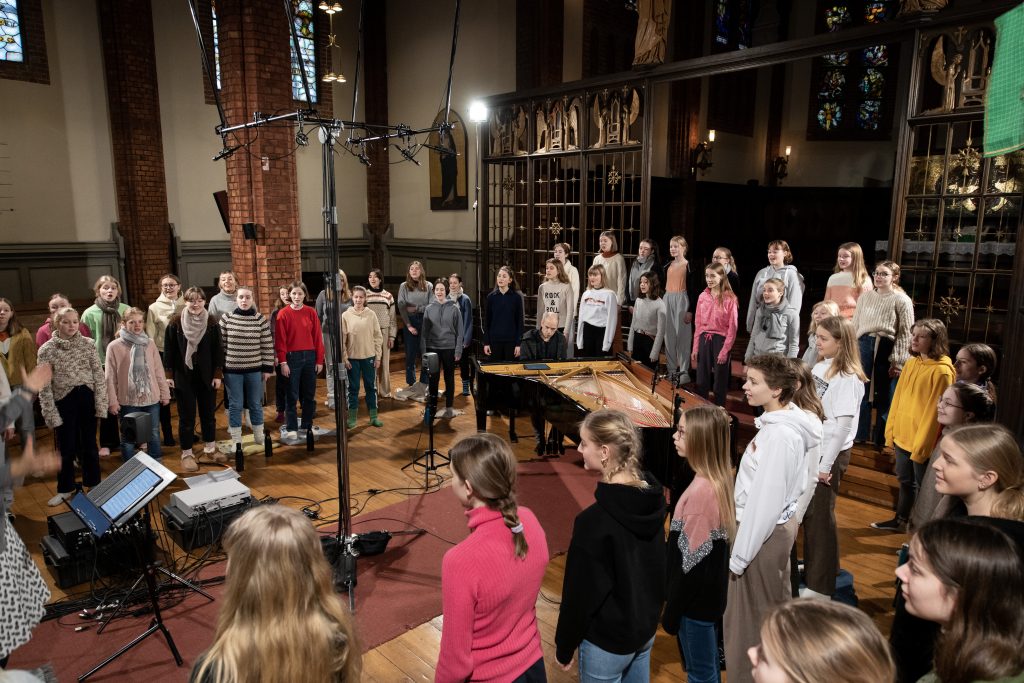 There is no method available today to reproduce the exact perception of attending a live performance. That leaves us with the art of illusion when it comes to recording music. As recording engineers and producers we need to do exactly the same as any good musician: interpret the music and the composer's intentions and adapt to the media where we perform. Immersive Audio is a completely new conception of the musical experience. Recorded music is no longer a matter of a fixed one- or two-dimensional setting, but rather a three-dimensional enveloping situation. Immersive Audio is a sculpture that you can literally move around and relate to spatially; surrounded by music you can move about in the aural space and choose angles, vantage points and positions.
Rather than reproducing a concert situation we consider the Recording Art a discipline on its own. It gives us the possibility to place the listener in an ideal position and become an actual party to the event. Thru a dedicated production of the music we can maximize energy, reveal all the small nuances and avoid disturbing distractions. The emotional impact can be made massive. The conductor's position is the seat no audience can afford — until now with these dedicated recordings.
Microphone placement and techniques
Our sonic image is created in the recording with dedicated microphone techniques. The composers and musicians should perform to the extended multi-dimensional sonic sculpture, allowing more details and broader strokes. Then immersive audio and surround sound is just a matter of opening up the faders. When the music is created, performed and recorded in immersive audio then stereo is our most time-consuming challenge; figuring out how to preserve the total impact and level of details from this sculpture into a flat canvas.
Our "2L-cube" is only remotely inspired by Decca- or Mercury-tree. The microphone array is really a direct consequence of the speaker configuration in the Auro-3D playback system. Time of arrival, SPL and on-axis HF texture is directly preserved in this 7.1.4 microphone configuration. Proportions are cubical and the dimensions could vary from 120 cm for a large orchestral array down to 40 cm in an intimate chamber musical context. I always use omnis in the main array. But depending on the room, the music and the instruments i alternate between the DPA 4003 and the 4041 with the larger membrane, the latter providing a more focused on-axis texture. My very first microphones was a matched pair of B&K 4003, recording straight to DAT in the early 90s. Rather than exploring a wide range of makes and models I stayed with DPA and spent my time getting to know them intimately. To maximize the potential of the DPA High Voltage concept we have a custom built power supply feeding 200V and 130V on 4- and 7-pin XLR totally transparent to the microphones.
When preparing for distribution we target the playback situation with separate mixes. For Auro-3D or Dolby Atmos then all 7.1.4 microphones goes directly to each their according loudspeaker. With diminishing numbers of loudspeakers we do not sum or fold-down. We take away sources. So for 5.1 only the lower bed, without the side-fills, of microphones are active. Then it is usually only front left and right microphone playing in stereo. Possibly with a slight texture added from the rear microphones. Pure, clean and minimalistic. Our philosophy is simple; one microphone straight to one speaker. The important aspect is to configure the array so time of arrival is captured and released in natural order.
Most 2L productions feature Nordic artists and contemporary composers, but also the classical European tradition. I believe our sounding results make an impact because it comes from the heart and soul of everyone involved. We don't speculate in what a commercial market might want to receive. We make what we would like to experience ourselves. That makes it personal.
Purity throughout the production process
My key to a good recording is to keep the signal path clean and short, with as few components as possible. I don't spread as many microphones as possible for someone else to pull the faders in post-production. I make my choice there and then so I have have a result that will serve the fundamentals of decisions to follow. A simple and pure signal path is the means to true high resolution audio. Not only at recording, but also preserving the purity all thru editing mix and mastering.
On venue recording sessions i find that headphones gives me exactly the kind of information I need, which is what the microphone is picking up at its current position. You can do pretty much anything and have full control on headphones. I emphasize this because tradition says "you can't record or mix on headphones." Yes, you can, but you need to relate it to a speaker environment by experience. Build a sense of transfer functionality, which makes you secure on headphones. You also must have a very good mastering studio so you can make the final production sound like it did while recording on headphones. I think one aspect of quality production is to step back and just relax and actually allow yourself time to experience what is really happening. Only then can you make the right choices on how to move forward. Stop, listen to what's happening around you, reflect and then act.
We record at 24bit 352.8kHz and preserve this resolution all thru into our distributed master files. There has been much focus on word length, but to me the sample rate is more important as impulse response connects directly to our primal sonic perception on a subconscious level. The most important aspect of post production is to not destroy the fine qualities captured at recording. Instead of EQ in post I much prefer to rather shift the angle or the distance of a microphone already in recording. It just takes planning. With a good recording I never use any EQ or dynamic processing at all. Editing is an important tool. It makes it possible to combine the highest level of energy and details into an intense performance. To do that you need to use a sonically transparent workstation. For the past decade we've worked with Merging Technologies on their Pyramix system.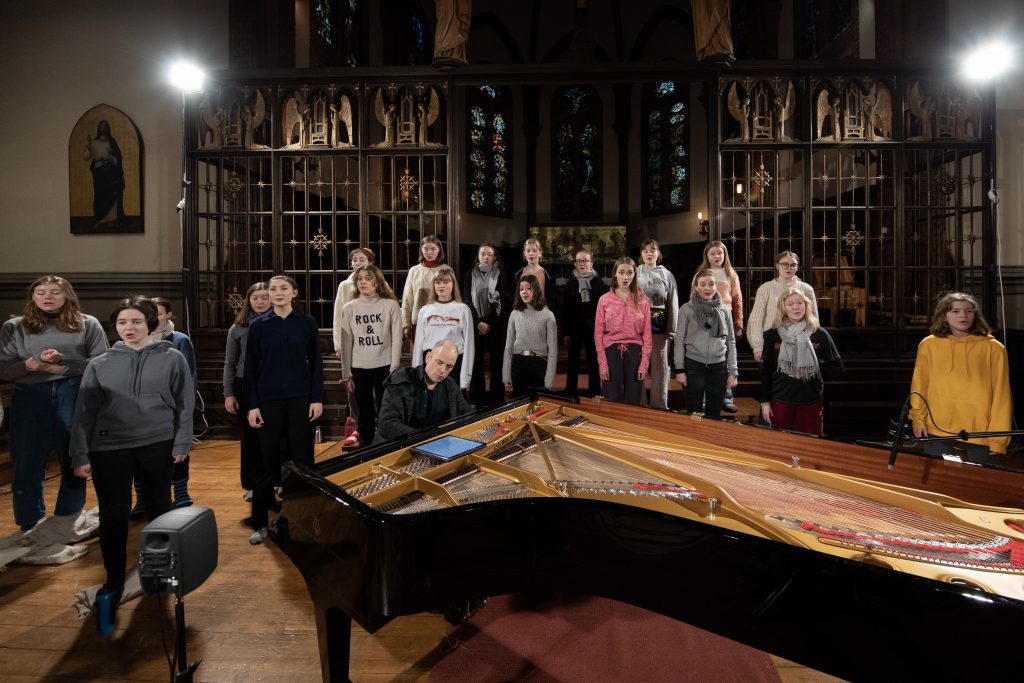 Apart from the Stille Gender – Christmas Carols album with the Norwegian Girls Choir and pianist Tord Gustavsen, I also recorded a 35 minute Bonus Album of solo piano improvisations performed by Tord Gustavsen.
The Bonus Album is not available as a single album purchase, only in combination with the original Stille Gender album through the Bundle. This Bundle gives your ears access to:
– Stille Gender (Christmas Carols by the Norwegian Girls Choir and pianist Tord Gustavsen)
– Stille Gender Bonus (Solo piano improvisations by Tord Gustavsen)
Merry Christmas, DSD Friends!