We wanted to know more about the recent album 'Russian Paintings' by the Russian Terem Quartet on the Russian ReachSound Art label. So we went ahead and asked the two founding members – Andrey Konstantinov and Andrey Smirnov – some questions. 🙂
Why is the album called Russian Painting?
Andrey Konstantinov
The album is called Russian Painting because it contains different facets of the mysterious Russian soul, different states and attitudes of a Russian person, his impressions of a difficult life, his values and movements of the soul.
Andrey Smirnov
Album Russian Paintings is a set of values that form the basis of our existence, universal principles, the best qualities of a Russian person formed subconsciously in the creation of this album. I wanted to wash my face with clean water. The plan was to create a special program with video reproductions of paintings by contemporary artists who now live with us, about which neither we nor those who live today know anything. When musicians are on tour, this is understandable, but at the same time with the concert, organizing exhibitions of artists, and even written under the impressions of the images heard in the music, this makes the Russian Paintings project unique. The music of Russian paintings contains an eternal search, a person's dream of happiness. Therefore, the fantasy genre is very suitable for revealing the task of the album. The presence of a fairy tale, where there is justice, tall tales, where everything connects and gets along, as in a dream, without unnecessary explanations, bright sadness, which makes us wiser and makes us think about ourselves. What we really are.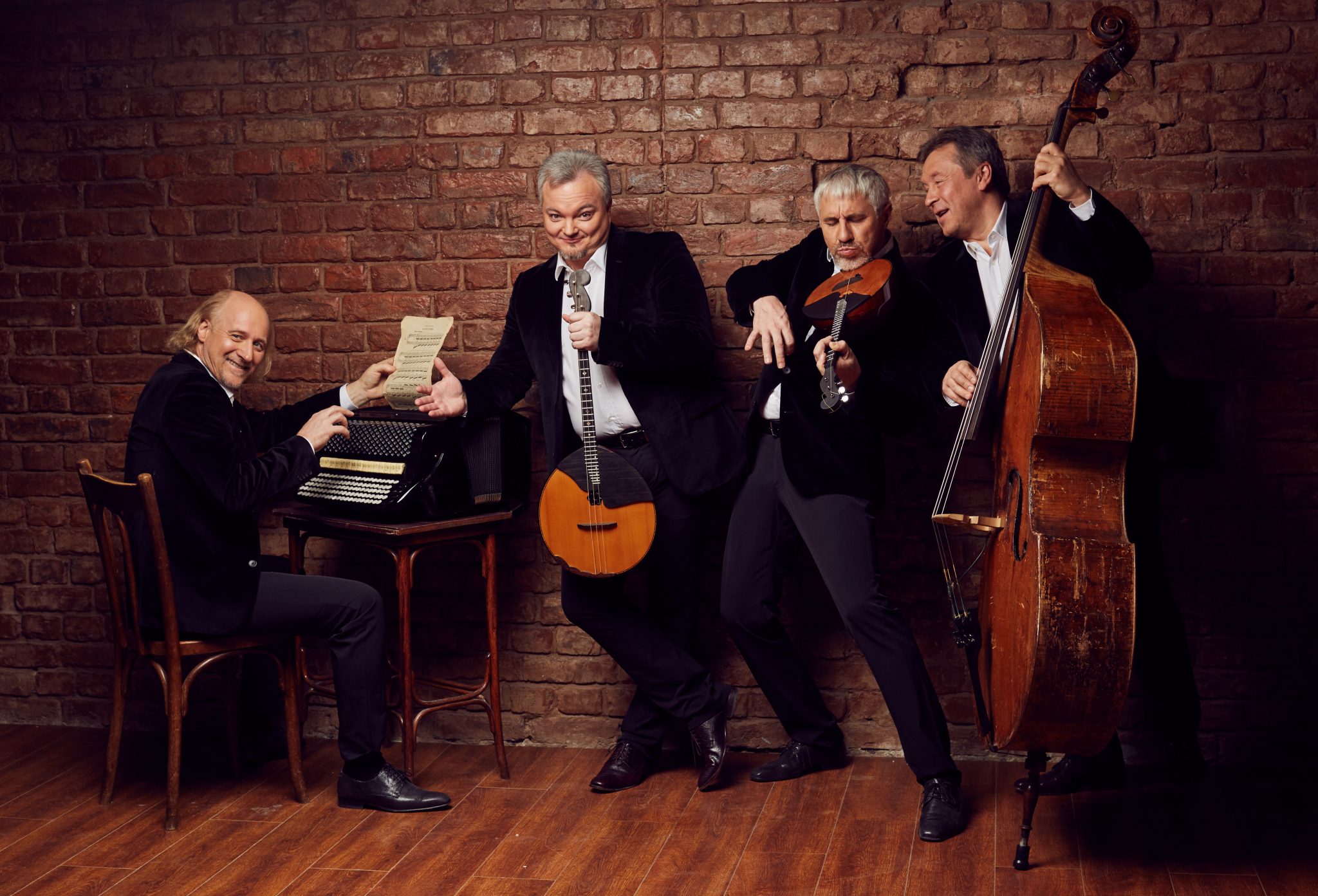 What do you call your Fantasies on popular topics are refined and sometimes you go very far from the topic itself, as in jazz, what is more important to you than the composer's theme or your fantasy on it?
Andrey Konstantinov
As a rule, we choose musical themes that touch us, evoke a spiritual response, give rise to our own associations and reflections. Therefore, each work is a reflection of our inner world, real experiences and impressions expressed through music.
If we assume that Tchaikovsky, Rachmaninoff, and Bach heard your fantasies, what do you think their reaction would be?
Andrey Konstantinov
I am sure that you would have experienced many pleasant discoveries and would have been positively impressed. After all, the more brilliant a composer is, the more he lets his children go free. He enjoys the independent life of his children.
Andrey Smirnov
How would the composers of the past have reacted to our processing of their works? It seems that our entire culture today would be alien to them. Especially with regard to one-dayers. At the very least, it would cause surprise and a desire to understand. The music of the Terem Quartet is based on a Fairy Tale, and the Fairy Tale is deep at all times, so they would be happy with such a continuation of the life of their works. We believe in this, because we do not destroy, but preserve the main principles of harmony. A smile and a friendly handshake are definitely guaranteed to us.
Do you think that musical crossover is a promising direction, how do you see the development of classical / academic music?
Andrey Konstantinov
The division into academic and popular music is very conditional. It has always existed. Because a person's life is diverse and different periods require their own intonations and vibrations. There are people with a very wide range of listening to music, there are those who like one thing. Favorite music corresponds to the inner needs and vibrations of a person and its choice is directly related to the stirring of his psychological wounds, with his development of creative thinking and aesthetic sense. After all, music quenches a person's" spiritual " thirst, excites his inner essence, which is not manifested in everyday life, that is, in everyday life. The perception of music passes consciousness and this is its strength. Music can lift a person from his knees or put him on his knees. It all depends on the processes that a person is going through at the moment. The classic crossover tries to balance on the verge of a lively interest of the public and the preservation of musical meanings or the game of meanings. By colliding the text with the context. But I don't think that it can become the leading direction of our time, because it requires some listening experience, "listening" of the human ear to understand this game. And the level of perception of contemporaries is constantly falling. The modern listener, for the most part, understands only a direct, clearly expressed thought. The nuances fly by. Another thing is that it is the classic crossover that allows you to find your interest in music, both for the sophisticated viewer and the "simple" one. Therefore, he will always be alive.
Andrey Smirnov
Crossover is a search for your own path. The search for answers to their own questions, so the crossover will always be relevant for the artist. The discovery of one's own Philosopher's Stone always leads in an unusual way, but using the experience of generations.
We are united by the Internet, but the soul of every person always remains lonely and she always needs help and love.

Andrey Smirnov
What did you perform in front of Mother Teresa and Pope John Paul II and what would you perform after so much time in front of Pope Francis?
Andrey Konstantinov
In the Vatican in 1994, we performed "Chardash Monti" in our arrangement. It was chosen by the artistic council consisting of cardinals.
Andrey Smirnov
Today we would play the fantasy "The Little Prince" to the music of Mikael Tariverdiev, Rimsky-Korsakov, Tchaikovsky. It seems to us that the topics of caring for a person, nature, and the soul are the most relevant today. We are united by the Internet, but the soul of every person always remains lonely and she always needs help and love.
Russian Painting is now available at the NativeDSD Music Store, in
Stereo, Binaural, and Multichannel DSD 64, DSD 128, DSD 256, and DXD, plus Stereo DSD 512.

Photographs were taken by: Daniil Rabovsky and Yulia Alekseeva