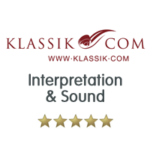 "You're going to compose your concerto….You will work with great ease…The concerto will be of excellent quality…" So spoke Dr. Nikolai Dahl, of one of the pioneers of psychiatry in Russia, and in this way he successfully restored Sergey Rachmaninov's concentration during a period of creative despair after the failure of his first Symphony. Later, Rachmaninov himself was to write: "Even though it seems unbelievable, this therapy truly helped me. I was already starting to compose by summer!" Although they were separated by the crisis which interrupted his work, both the second Piano Concerto and the "Moments Musicaux" date from the composer's early period, during which he was active primarily as a composer rather than a pianist. This explains the character of the second Piano Concerto, which partakes of both chamber music and symphony, despite the dazzling virtuosity of the solo piano part. Unlike many of Rachmaninov's other works, the concerto, dedicated in thanks to his doctor, was never revised after the first performance-another indication of the ease and freshness with which Rachmaninov went to work. The formal simplicity (e.g., in the first movement: main theme in the minor, second theme in the relative major, the development section laid out as a large-scale accelerando with gradually increasing dynamics, recapitulation with both themes, although given out with different instrumentation) is just as classically conceived as the choice of tonalities for the three movements (opening and closing movements in C minor, the slow central movement in E major, just as in Beethoven's 3rd Piano Concerto, except for the introductory modulations), and the balanced alternation between the freely improvisatory, martially strict, and dancelike, as well as between polyphonic and homophonic writing. However, all three movements are in 2/2 time, making the frequent shifts between 2/2 and 3/2 in the third movement all the more refreshing….
Tracklist
1.
Piano Concerto No. 2 In C Minor, Op. 18 - Moderato; Allegro
11:00
2.
Piano Concerto No. 2 In C Minor, Op. 18 - Adagio sostenuto
11:36
3.
Piano Concerto No. 2 In C Minor, Op. 18 - Allegro scherzando
12:23
4.
Moments Musicaux, Op. 16 - No. 1 Andantino
06:31
5.
Moments Musicaux, Op. 16 - No. 2 Allegretto
03:02
6.
Moments Musicaux, Op. 16 - No. 3 Andante cantabile
07:07
7.
Moments Musicaux, Op. 16 - No. 4 Presto
02:50
8.
Moments Musicaux, Op. 16 - No. 5 Adagio sostenuto
05:16
9.
Moments Musicaux, Op. 16 - No. 6 Maestoso
04:44
Total time: 01:04:29
Additional information
| | |
| --- | --- |
| Label | |
| SKU | 26308 |
| Qualities | |
| Channels | |
| Artists | |
| Composers | |
| Genres | |
| Cables | van den Hul |
| Digital Converters | Meitner A/D DSD / Meitner DA |
| Mastering Engineer | Jared Sacks |
| Mastering Equipment | B&W 803 diamond series |
| Microphones | Bruel & Kjaer, Schoeps |
| Mixing Board | Rens Heijnis custom design |
| Awards | classics-fm-disc-month, echo-prize-2009, klassik-5, stereoplay-cd-month |
| Conductors | |
| Instruments | |
| Original Recording Format | |
| Producer | Jared Sacks |
| Recording Engineer | Jared Sacks |
| Recording location | London, England Eindhoven Holland 2008 |
| Recording Software | Pyramix bij Merging |
| Recording Type & Bit Rate | DSD64 |
| Speakers | Audiolab, Holland |
| Release Date | January 5, 2014 |
Press reviews
Fonoforum
Die enorme Suggestivität und haptische Nähe seines blitzsauberen, kraftvoll-prägnanten und emotional durchlebten Spiels vermittelt sich dem Hörer voll dank der phantastischen Aufnahmetechnik des musikbesessenen Tonmeisters und Produzenten C. Jared Sacks, der es fertig brachte, bei dieser in der Londoner Royal Festival Hall mitgeschnittenen Live-Aufführung ein so holographisch-präsentes Klangbild in den DSD-Konverter zu zaubern, dass man zunächst glaubt, ein artifizielles Studioprodukt vor sich zu haben. (…) Lazics manuelle Souveränität und sein Sinn für die große Linie und für Rachmaninows Noblesse und dunkle Leidenschaft verleihen der rundum perfekten Aufführung sogar die Aura des Geheimnisvollen (…) Auch in den selten gespielten "Moments musicaux", die mehr von Chopin als von Schubert inspiriert scheinen, trifft der 31-jährige Pianist mit souveränem Ton und unbestechlicher Prägnanz die für Rachmaninow so wichtige Schnittmenge zwischen explosiver Brillanz, feiner Melancholie und tiefer Leidenschaft, und dies wieder ohne eine Spur von virtuoser Eitelkeit. Fazit: Eine im besten Sinne tief romantische, die Humanität Rachmaninows beschwörende Interpretation, und auf alle Fälle eine Scheibe für die Insel.
Volkskrant
Lazic heeft begrepen dan Rachmaninoff's muziek geen grote gebaren behoeft om diepgevoeld te zijn. (…) Pianowereld Rachmaninoff zonder ijlkoorts (…) er zit rust in het spel van de pianist, net als in de opname, die het klavier prettig balanceert met het London Philharmonic Orchestra.
Audio (KlangTIPP)
Dejan Lazic Coup mit Rachmaninoff (…) voller Emotionen und warmen Farben (…) Abendzeitung (…) Spielerischleicht und mit schierem Instinkt für die leise Momente macht Lazic es auch dank des dynamisch intelligent geführten Orchesters zu einem intellektuellen Genuss sondergleichen. Der Surroundton fängt das atemlos gespannte Publikum ebenso superb ein wie den Saal samt majestätischen Flügel (…) Unvergesslicher Klavierabend!
NDR Kultur
Schöne Stellen ohne Schmachten Frankfurter Allgemeine Zeitung (…) diese Aufnahme besticht durch das geschlossene Zusammenspiel von Solist und Orchester und die besonders gut klingende Aufnahmetechnik. Nach dem furiosen Schluss folgt auf der Aufnahme eine bewusst längere Pause. Denn nachdenklich und mit zart-schwebenden Klängen beginnt Lazic die Moments Musicaux. "Was mein Herz gerade fühlt", habe er in diesen Moments Musicaux festgehalten, soll Rachmaninov einmal über diese sechs Stücke gesagt haben. Sie sind eine Mischung aus melancholischen Träumereien und motorischen Paradestücken ganz im Geiste von Chopin und Schubert. Man lauscht gebannt, wie Lazic ein beklemmendes Andante cantabile gestaltet, mit Leichtigkeit brillante Läufe spielt und sich am Ende mit Leidenschaft dem finalen Klangrausch hingibt. Ein absolut überzeugend dargebotener Rachmaninov und ein Pianist, dessen Namen man sich merken sollte.
Crescendo
Dejan Lazic strahlt wie ein Komet am Klavierhimmel. Zu dieser Erkenntnis gelangt man beim Anhören seiner detail-versessenen Neueinspielung des 2. Klavierkonzerts von Rachmaninow (…)
Kultur Spiegel
Schon wieder Rachmaninow? (…) So dramatisch weitblickend und zugleich akkurat im Detail ist das überstrapazierte Werk lange nicht mehr zu hören gewesen (…)
Klassik.Com
Das lebendige, tiefgründig ausbalancierte Klangbild genügt höchsten audiophilen Ansprüchen. Kurzum: Lazics Rachmaninow-Interpretationen sind unverzichtbar.
Ophelias
Komet am Pianistenhimmel!!
Piano
ein kraftvoller, wie sensibler Pianist, der nicht drauflosspielt, ohne sich eingehend, dem nicht an der Darstellung von vordergründiger Virtuosität liegt. (…) Brillant in jeder Hinsicht, das gegenseitige Raumlassen, wobei keiner den anderen herausfordert, das ist kongeniales Musikertum. Das erreichte Klangfarbenspektrum ist hier ebenso famos zu nennen
Kleine Zeitung
Mit dunkel tönender Pracht tritt Das Orchester in einem wachen Dialog mit dem Pianist, der den Solopart mit technischer Bravour souverän meistert. Seine emotionsgeladenes, aber dennoch stets einer bemerkenswerten Noblesse verpflichtetes spiel, das auch das Moments Musicaux glänzend ansteht, zeichnet sich durch weit gespannte Bögen, ein hohes Maß an Poesie, durch Innigkeit im Mittelsatz uns Schwerelosigkeit im finale aus.
Applaus
mit überragender Virtuosität und großer Einfühlungskraft interpretiert Dejan das melodienreiche romantische Werk und er beweist er seine souveräne Technik und seinen ausgereiften Gestaltungswillen (…)
Stereoplay
Eine im besten Sinnen tief romantische, die Humanität Rachmaninows beschwörende Interpretation, und für mich eine Scheibe für die Insel. (…) Virtuositat und Seelenwärme
HVT
Laat je meevoeren op de melancholieke klankstromen en droom weg langs verten van verlaten bossen en velden. Een dikke 10 voor uitvoering en opname.
BR-online
Die enorme Suggestivität und haptische Nähe seines Blitzsauberen, kraftvoll-prägnanten und emotional durchlebten Spiels verdankt sich auch der Phantastischen Aufnahmetechnik des musikbesessenen Tonmeistersund Produzenten. (…)(…) Ein Album für die Insel!(…) Atemberaubende Präzision
NDR Kultur
ein absolut überzeugend dargebotener Rachmaninov und ein Pianist, dessen Namen sich merken sollte.
Figaro-Musik
Ein temperamentvolle Interpretation
Audiophile Audition 3*
A fine outing by an excellent pianist (…) the pianism is crystalline and thoughtful, robust and sensitive when needed?
International Record Review
Rachmaninov's Opus 16 no. 2 is a tremendous moment of release in Lazic's hands, there is much to admire in this performance – the undulating majesty of the six and final piece is most impressive. Recording sounds and notes are both good and the piano is particularly well captured in the solo music.
Only logged in customers who have purchased this product may leave a review.