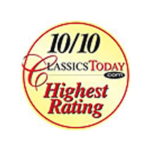 When discussing the possibility of recording J.S. Bach's "Die Kunst der Fuge" (The Art of Fugue, BWV 1080) with those in and outside the classical music world, the question of playing this great masterwork on saxophones invariably arises early in the conversation! After all, the saxophone was not even invented until nearly 100 years after Bach's death. However, there are two interesting points which should allay any concerns as to the appropriateness of the music of Bach to the saxophone. First, Bach, who was known to be a man of precision regarding instrumentation and other musical issues, did not indicate any instrumentation for "The Art of Fugue." Neither did his son C.P.E. Bach, to whom he dictated this, his final work. Second, the saxophone quartet is the only modern chamber ensemble designed as a true consort. The entire family, from sopranino to contrabass was conceived by its maker, Adolphe Sax, as an extension of a single acoustic design, uniform and complementary throughout the range. Thus the soprano, alto, tenor and baritone saxophones represent a pure consort, more consistent in tone color from top to bottom than the brass or woodwind quintet, and even the string quartet.
It was in fact a member of one of the world's most well known string quartets who convinced NCSQ to look at this music, leading eventually to this recording. In 1994 the New Century Saxophone Quartet and the Julliard String Quartet performed in Los Angeles' Ambassador Auditorium on consecutive nights. In a backstage conversation, the Juilliard's cellist, Joel Krosnick, suggested that New Century explore "The Art of Fugue," feeling it might be a good match for the sonority of a saxophone quartet. This was not the first time the quartet had heard this. Five years earlier, in 1989, Philip Dunigan, the well known flutist and teacherat the North Carolina School of the Arts, had also encouraged the quartet to play "The Art of Fugue," however it took the advice of a second great musician, Krosnick, to get the Quartet to overcome it's natural hesitation to take on this challenge.
Tracklist
Please note that the below previews are loaded as 44.1 kHz / 16 bit.

6.

Contrapunctus 13 - Canon All Duodecima In Contrapunto Alla Quinta

04:04

7.

Contrapunctus 14 - Canon All Cecima. Contrapunto Alla Terza

05:11

14.

Contrapunctus 15 - Canon Per Augmenmtationem In Contrario Motu

06:18

15.

Contrapunctus 12 - Canon Ala Ottava

02:40

16.

Contrapunctus 16 - Rectus

02:05

17.

Contrapunctus 16 - Inversus

02:08

18.

Contrapunctus 19 - Unfinished

09:38

19.

Choral - Wenn Wir In Hochsten Sein

04:30
Total time: 01:17:34
Additional information
| | |
| --- | --- |
| Label | |
| SKU | 20204 |
| Qualities | DSD 512 fs, DSD 256 fs, DSD 128 fs, DSD 64 fs, WAV 192 kHz, FLAC 192 kHz, FLAC 96 kHz |
| Channels | |
| Artists | |
| Composers | |
| Genres | |
| Cables | van den Hul |
| Digital Converters | DCS DSD AD/DA |
| Mastering Engineer | Jared Sacks |
| Mastering Equipment | B+W 803 diamond series |
| Microphones | Bruel & Kjaer, Schoeps |
| Mixing Board | Rens Heijnis custom made |
| Awards | |
| Instruments | |
| Original Recording Format | |
| Producer | Jared Sacks |
| Recording Engineer | Jared Sacks |
| Recording location | Doopsgezinde Kerk Deventer Holland |
| Recording Software | Pyramix |
| Recording Type & Bit Rate | DSD64 |
| Speakers | Audio Lab |
| Release Date | May 10, 2014 |
Press reviews
Audiophile Audition
one of the best saxophone quartets …. a fascinating musical experience and a fascinating listening experience. Audiophile Audition
International Record Review
sounds as wonderful as ever when played on four saxophones () () this is no ordinary recording but a devotedly virtuoso traversal of some of the most mind-bogglingly ingenious and inspired examples of counterpoint ever committed to manuscript.() International Record Review
Amazon.com
Bach never heard a saxophone, but the clarity, virtuosity, and restrained expressively of this performance would probably have pleased him greatly. (…) Amazon.com
The Independent
couldn't be better
HiFi
superb transcription () () the clarity, the shape and colouring of the phrases, the way individual players inter-relate and the warm, luminous sound () () extraordinarily moving effect. The Independent () Het vileine kakarter van de stukjes komt prima tot zijn recht en ook de virtuoze passages worden briljant gespeeld () Hifi
Only logged in customers who have purchased this product may leave a review.